Have you ever wondered how you can revamp any background with different lighting? What happens when you choose a certain color backdrop, but you want to offer a versatile background choice for a variety of acts? The solution: LIGHTING. This dilemma happens with many of our clients and we're featuring two of them below.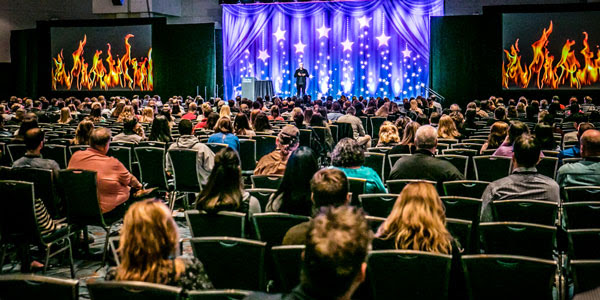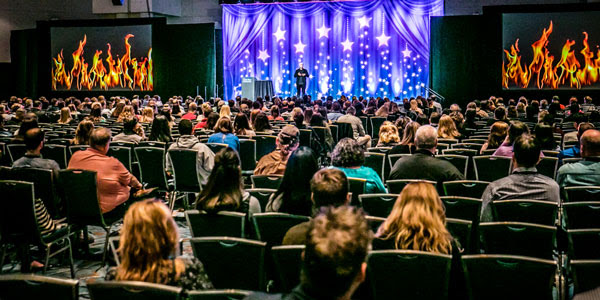 Our  blue drapes with stars backdrop was chosen as the main element for our clients' stage décor. While they had a chef on stage with elements of fire on each side, the blue drapes were a perfect fit for the fire and ice feel.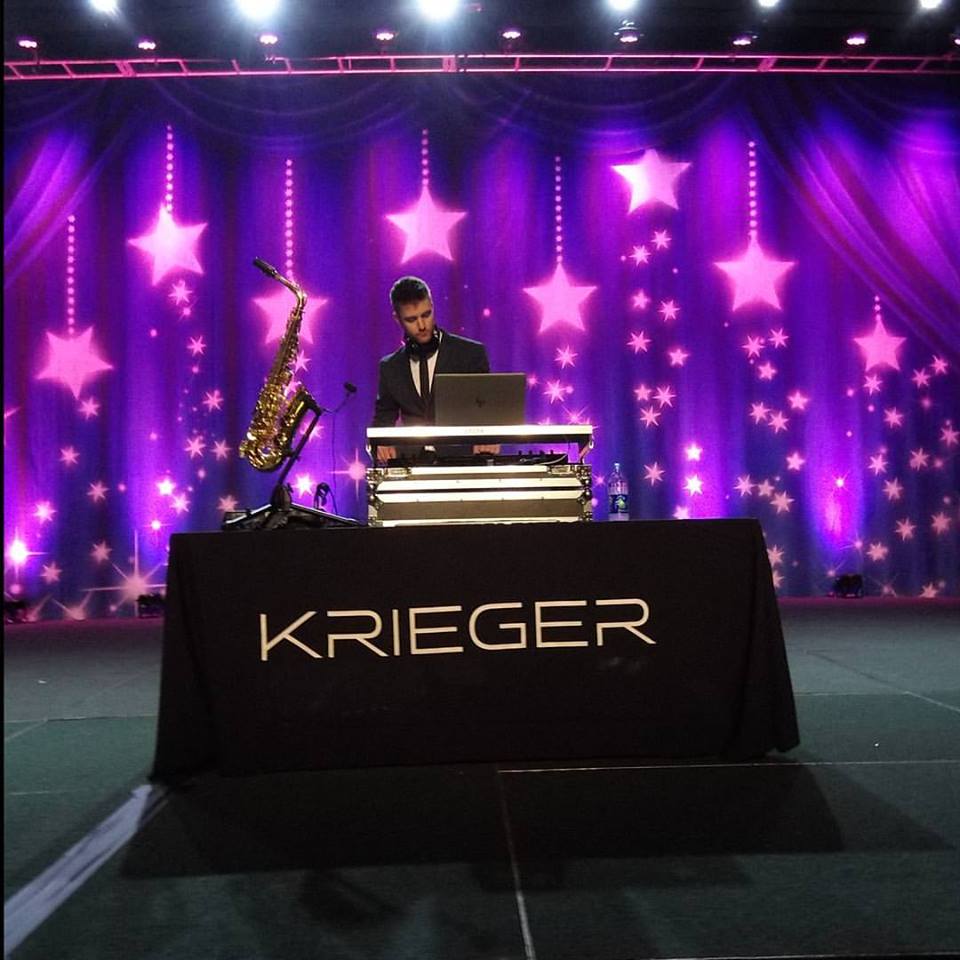 Believe it or not! Above is still our blue drapes with stars backdrop. Doesn't look blue, does it? Once our client decided to switch up the presenters to a live DJ, a purple tone was more appropriate for the feeling of the music and as day turned into night. The color of the drapes, from blue to purple, was easily transformed with a red gel to create the purple tones behind DJ & MC David Krieger. Back to the basics of your RGBs! Think of all the customization opportunities lighting can provide to any backdrop you use. Effortlessly optimize any backdrop to match your color scheme!
For every scene, this client had different color drapes. All they had to do is change the gels! It was literally that easy. You can always change colors of our backdrops with fun and unique lighting tricks! Use lighting to color match our backdrops to whatever color you desire.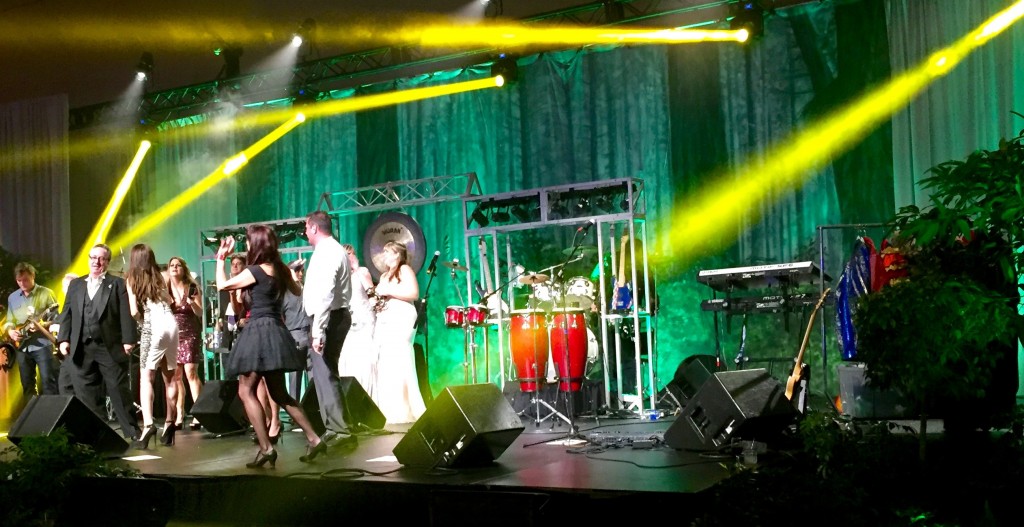 Another one of our clients used our Twilight Forest backdrop as part of their stage décor. Our Twilight Forest backdrop has a beautiful misty haze in the background of the scene. The forefront lush forest is full of greenery and brown hues, which is emphasized with the green front lighting above.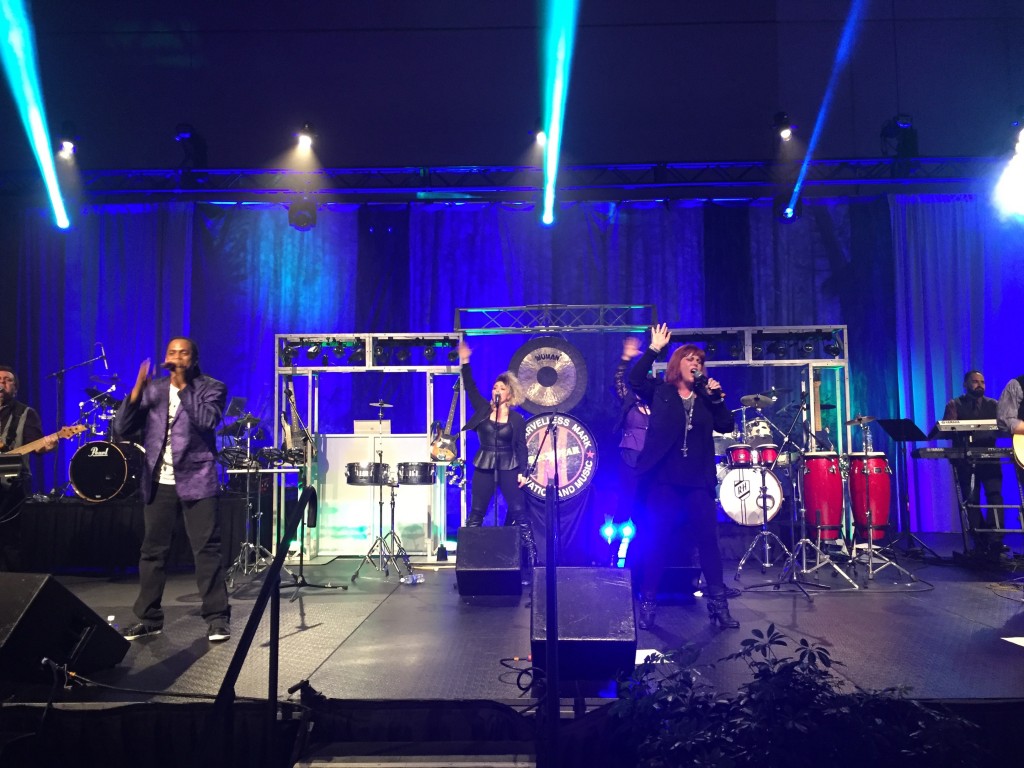 With a different act, comes a different color! The mood is completely transformed to fit the band. Check out the cooler, blue tones below. It is truly incredible to witness the power of front lighting in morphing our backdrop from one image to the next!
How have you used lighting to revolutionize your event? Check out this awesome dance recital that achieved an multiple incredible looks. Comment and let us know your tricks below!