Plan the Holiday Party that will impress all of your guests! Spending time with loved ones is the best part of the Holiday Season. But isn't a Holiday Party a close second? We're highlighting one of our favorite holiday affairs. Complete with red and green opulent décor. Gain some Holiday inspiration from this event below.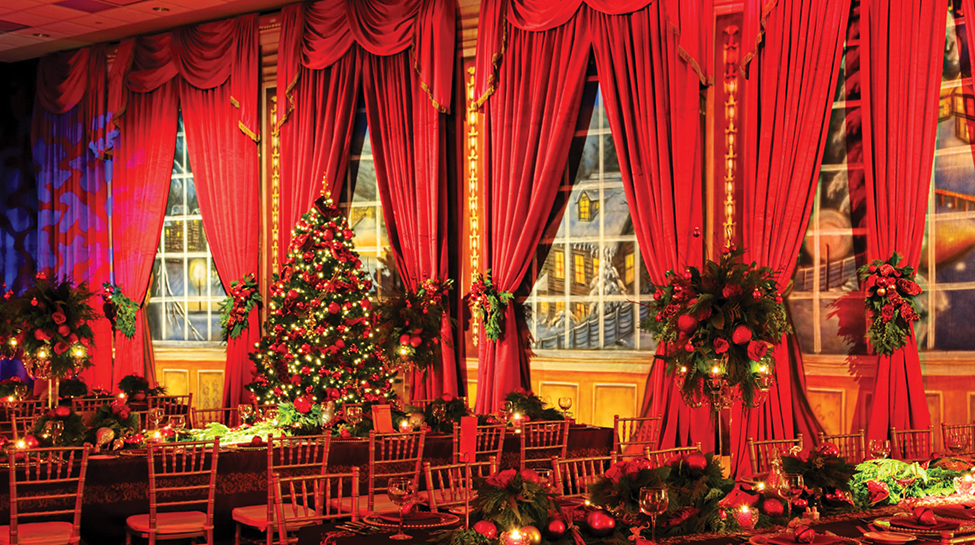 Holiday Season is upon us! This Christmas inspired gala is beautifully decorated. The centerpieces are overflowing with red roses and greenery. Garlands & candles lined the long tables throughout the room. Our Mansion View Backdrop set the background of the event. Our backdrop complemented the lavish floral arrangements. Of course, the beautifully decorated Christmas Tree as well. The snowy village on the backdrop creates an atmosphere of warmth inside while escaping the cold. The red drapes add a festive, elegant element to the party.
This room was completely transformed into a festive celebration! The details made all the difference. From the green, gold, and red garland on the ceiling lights. To the luxurious chandeliers towards the Christmas tree. The traditional red and green theme is evident throughout. This room instantly makes you in the mood for the Holiday season. The lighting transformed the look of the décor. It enhanced the moody red & green tones of the event. Did we mention the entrance to this Holiday Party looked like an ancient castle? Decorated with festive red, green & gold floral notes. See this merry entryway below.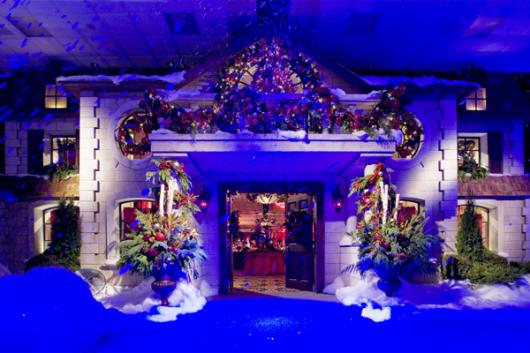 How will you be celebrating this Holiday Season? We've showcased a traditional Home for the Holidays Party. We love seeing unique Holiday Party themes as well! An entertaining theme can always take your event to another level. A few of our favorite themes are Roaring Twenties, Winter Wonderland, or Hollywood. What are your favorite themes & traditions? Comment below and let us know!