We are so excited to share our new backdrops with you. We always have so much fun adding new backdrops to our inventory. This time is no different. These new backdrops are keeping us in the mood for enjoying the summer weather. Beach inspired, a stunning skyline, and a trip to funky town. We're ready to roll.
Escape to this relaxing Surf City!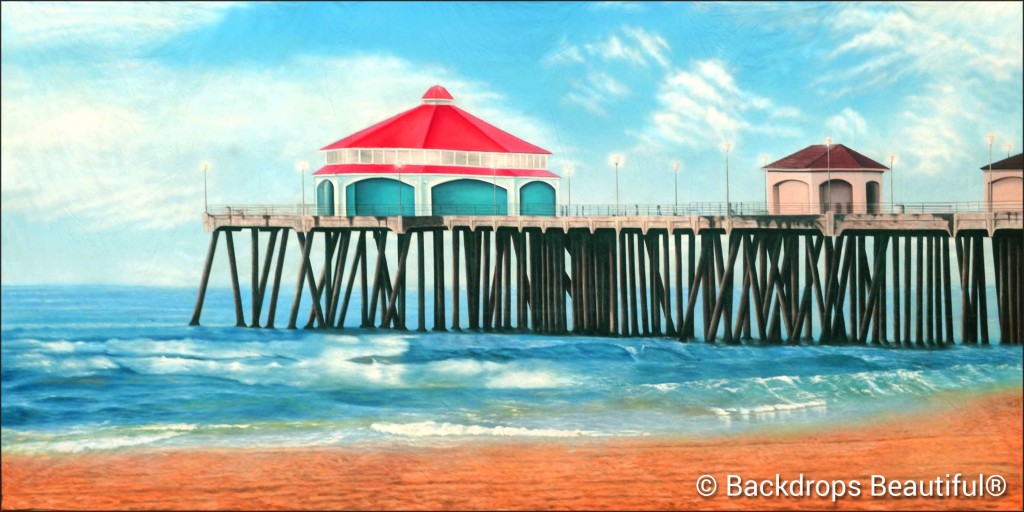 Our Pier 3 backdrop is the perfect scene for your summer getaway. This picturesque new backdrop is inspired by Surf City U.S.A. Also known as Huntington Beach, California. This beautiful city is in Orange County, nestled between Los Angeles to the north and San Diego to the south. Home of the U.S. Open, the largest surf competition in the world. Every summer, this competition brings the best surfers in the world to compete on this gorgeous beach. The crashing waves and temperate weather make it the perfect place to vacation.
Stunning San Diego Nights

This San Diego by Night skyline illuminates the sky creating a charming golden overtone. This is the ideal background to enhance your event to a night to always remember. The shining lights from the buildings complement the bright moon. Downtown can often be seen as busy, city life, but is easily translated to a serene scene that can transform any event. This view of this backdrop is painted as if you were on Coronado Island. A beautiful, quaint town perfect for sight seeing. This new backdrop is sure to enhance your event and take it to the next level.
Won't you let me take you to Funkytown?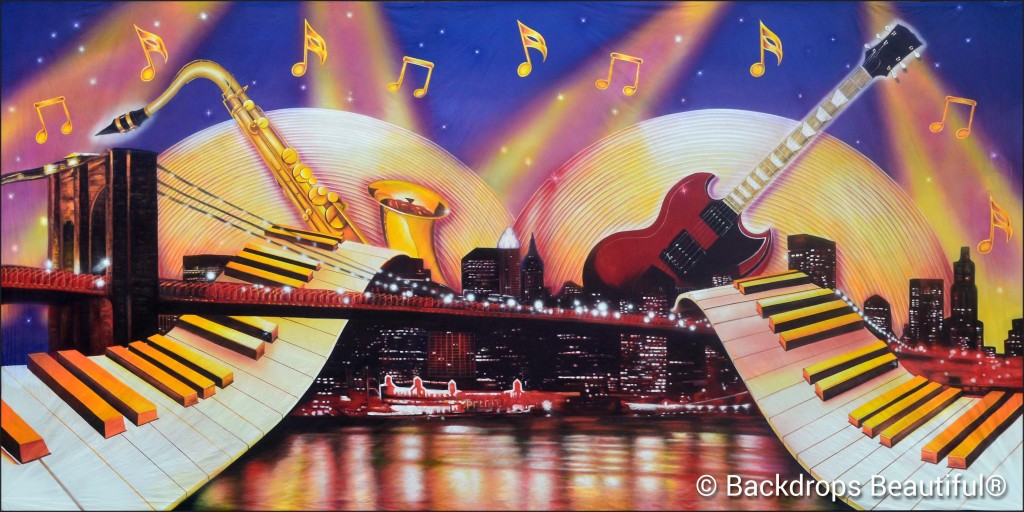 Let us take you to Funkytown with this musically vibrant backdrop. The background is a stunning New York skyline with an array of musical instruments in the foreground. The movement within the piano, the gold tone of the saxophone, and the red guitar emanate musical notes in the sky. This new backdrop highlights the seamless combination of the colors of blue, purples, and gold. This is a fun, funky backdrop that is sure to transform your event's atmosphere.