Shop our Black Friday sale and save 25% off your next rental until December 1st, 2015! Mention Offer Code: BLACK15 to save! Take advantage of this special to transform your next event to a night that everyone will remember! Our backdrops will take you out of this world and into another! Have a theme in mind for your next event or recital? We have over 2,500 hand-painted backdrops in our inventory ready to enhance your production! Our dedicated and creative team are available to suggest an array of backdrops that will be perfect at your event. Call us at 858-300-2100!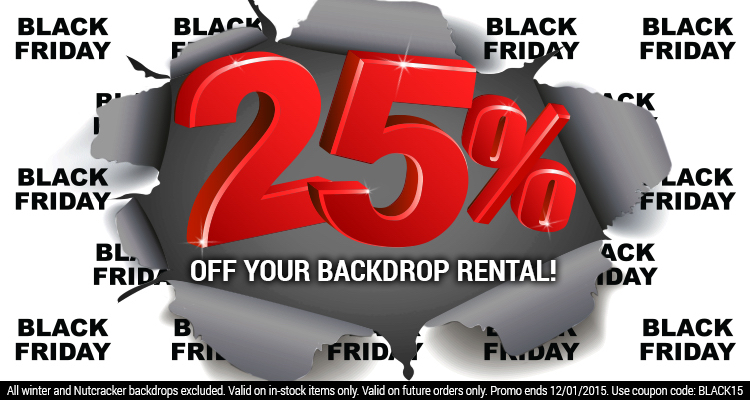 Want to take advantage of our exclusive Black Friday offer, but you haven't finalized the details of your event? Still need to decide on the location, the theme, or the date? We're here to help! Reserve and book your backdrop now & have the opportunity to update any of the details later! Need a different backdrop? We have thousands in stock ready to transform your event! The date or location has changed? No worries! Our team is ready and willing to assist with all of your changing needs!
Our backdrops can enhance your event, no matter the type of production! Planning an event, wedding, anniversary, or birthday party & want to transform the space you've rented? Look no further. Our backdrops will set the theme in an instant! Designing your next dance recital and want to WOW your attendees? Our backdrops are all non-reflective and look amazing behind dancers of all ages! Developing your next theatrical production and want to give your audience an immersive experience? Our backdrops do just that! Ask our team about our show themed backdrops that are ready to enhance your production. We have thousands of backdrops in-stock, ready to complement your show.
We cannot wait to see how our backdrops complement your beautiful events, recitals, and productions! It's the time of the year to be THANKFUL for all of our loyal clients and supporters. We thank YOU and we are so thrilled to see our beautiful backdrops enhance your event!