Did you get a chance to see us at BizBash Los Angeles? We had such a wonderful time exhibiting among all of the other innovative vendors. We enjoy any opportunity to see our partners within the industry and meet new and upcoming event professionals. Connecting with so many professionals within the industry reminded us why we love being at tradeshows, especially in Los Angeles.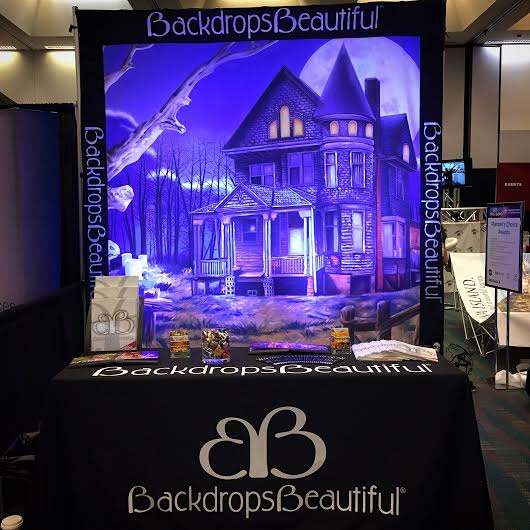 We highlighted our 10′ x 10′ Haunted House backdrop as one of our favorite holidays is Halloween (& we remember that even during the summer!). We absolutely love this spooky hand-painted backdrop and the front lighting transformed the backdrop in it's own distinct way. Remember, front lighting is the way to go in regards to uplighting backdrops! We still celebrated summer by enjoying the beautiful weather in Los Angeles AND extending our Sizzling Summer Sale to all the attendees! We have a wide selection of 10′ x 10′ backdrops that are perfect birthday parties, smaller events, Quinceañeras, bar and bat mitzvahs, Sweet 16 parties, or even photoshoots!
It is amazing to exhibit at all of the BizBash expos from Florida to Los Angeles to New York. Each event is extremely unique and each of the attendees brings a new element to the conversation regarding event design and decor. It was lovely connecting with so many event professionals and discussing new ways to bring backdrops to life at any event, wedding, or special affair.
As we put our Florida and California 2015 BizBash experiences behind us, we are looking forward to what's next. We cannot wait for the last BizBash expo of 2015 in New York and are thrilled that our East Coast Manager will be there to represent us! Read more about our East Coast expansion in our latest newsletter. We are extremely excited to be able to service your needs from both coasts!