I often get asked for help on how to set up an assigned username for Facebook pages.  In fact, the question of how to setup a username came up via twitter in last night's #eventprofs chat.  So I thought I put a quick post together and show everyone how to do it step by step.
Why setup a username you ask?  For one, it will make it easier for your clients to find and like your page.  It is also a great way to brand your work and provides accessibility for search engines to index you properly. It's important to capitalize on all the features Facebook offers to set your brand apart from your competitors and what better way to start than by claiming your own brand name.
A default Facebook page url (username) will appear like this:
http://www.facebook.com/pages/backdropsbeautiful/106828624998
Make sure you log-in to your profile page and that you are an administrator of your Facebook page.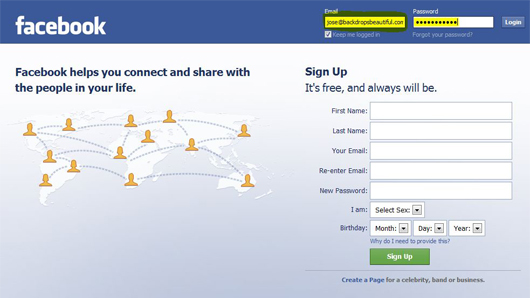 Go to the Facebook username assignment page:  www.facebook.com/username it will look like this: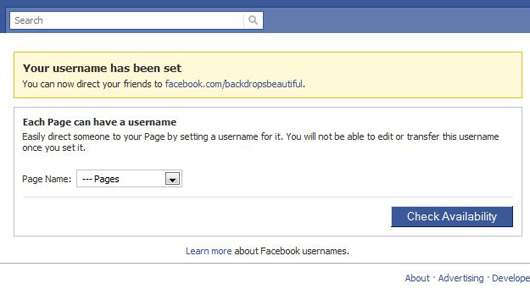 Next, select the page name from the drop down box: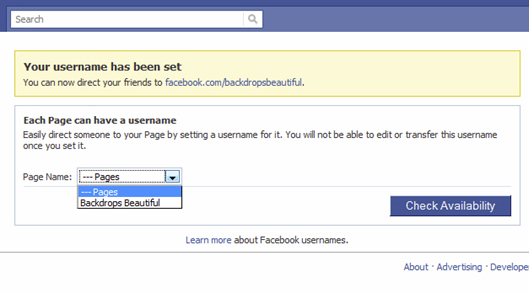 Enter your custom name in the right hand box that appears once you've selected the page name you want to assign a custom name: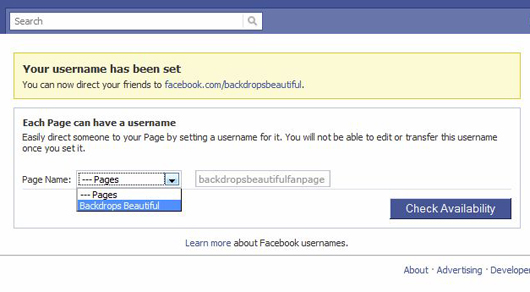 Finally, press the "Check Availability" button (it will warn you if the chosen name is not available).  If available, a pop-up disclaimer will advise you that once you set your page with a username, it is final.  Accept disclaimer if you agree.  Upon confirmation your username will be assigned and you can now promote it.
http://www.facebook.com/backdropsbeautifulfanpage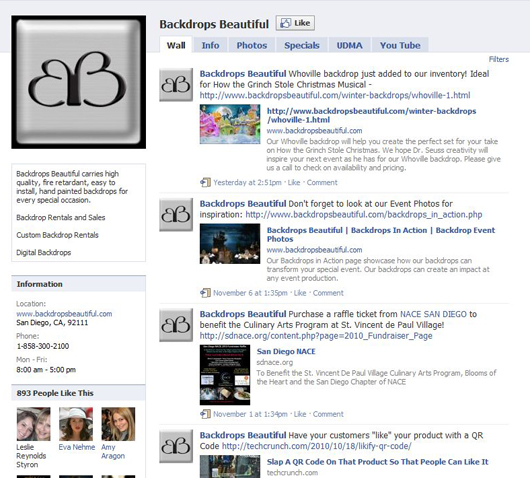 Please note that your fan page must have more than 25 fans (likes) in order to assign it a custom username.  This is a big change from a year ago when Facebook required you to at least have 1,000 fans.
For FAQ Facebook Pages questions click on the link below:
http://www.facebook.com/help/?search=usernames#!/help/?page=900
I hope this tutorial helps you effortlessly setup your custom name and that you see the benefits of doing so.  If you disagree, I'd like to hear why.