Planning a party for someone sweet? Our Candyland party ideas will help bring your party to life! Whether it's for a quinceañera, Bat Mitzvah, or a birthday party, this theme is sure to be a hit. Don't forget your sweet tooth. This delicious party will be one to be remembered for ages.
Sweet Inspiration for your Candyland Party
Look below for inspiration for your Land of Sweets party. From the entrance to the centerpieces to the décor and so much more.
1. First Impressions are Everything
Impress your guests even before they enter the party! As you enter this Bat Mitzvah, you will be immersed in an amazing, candy-filled world of Kaylaland. The playful lettering, candy accents, and purple florals set the mood for the joyous occasion.
2. Determine your Color Palette

With a Candyland theme, there are endless varieties of colors to choose from when determining your color palette. With bright and colorful candy elements, we suggest choosing the favorite color of the person you're honoring. In this case, the Bat Mitzvah girl loves shades of purple and pink. These hues were highlighted throughout the event. The linens, florals, and centerpieces all shined brightly in shades of purple and pink.
3. The Sweeter the Décor the Better

When you're planning a Candyland party, the sweet the décor the better. Our Candyland Backdrops can effortlessly bring your theme to life. Explore yummy meadows of sugary treats with rolling fields of swirly lollipops and frosted pink mountains. A chocolate river overflows with colorful candy and sugar cones. Striped orange popsicles tower over berry cupcakes at the beginning of the candy coated pathway. Gooey gumdrops make their way up the windy roads leading up to the mountain.
4. Don't Skimp on the Dessert Table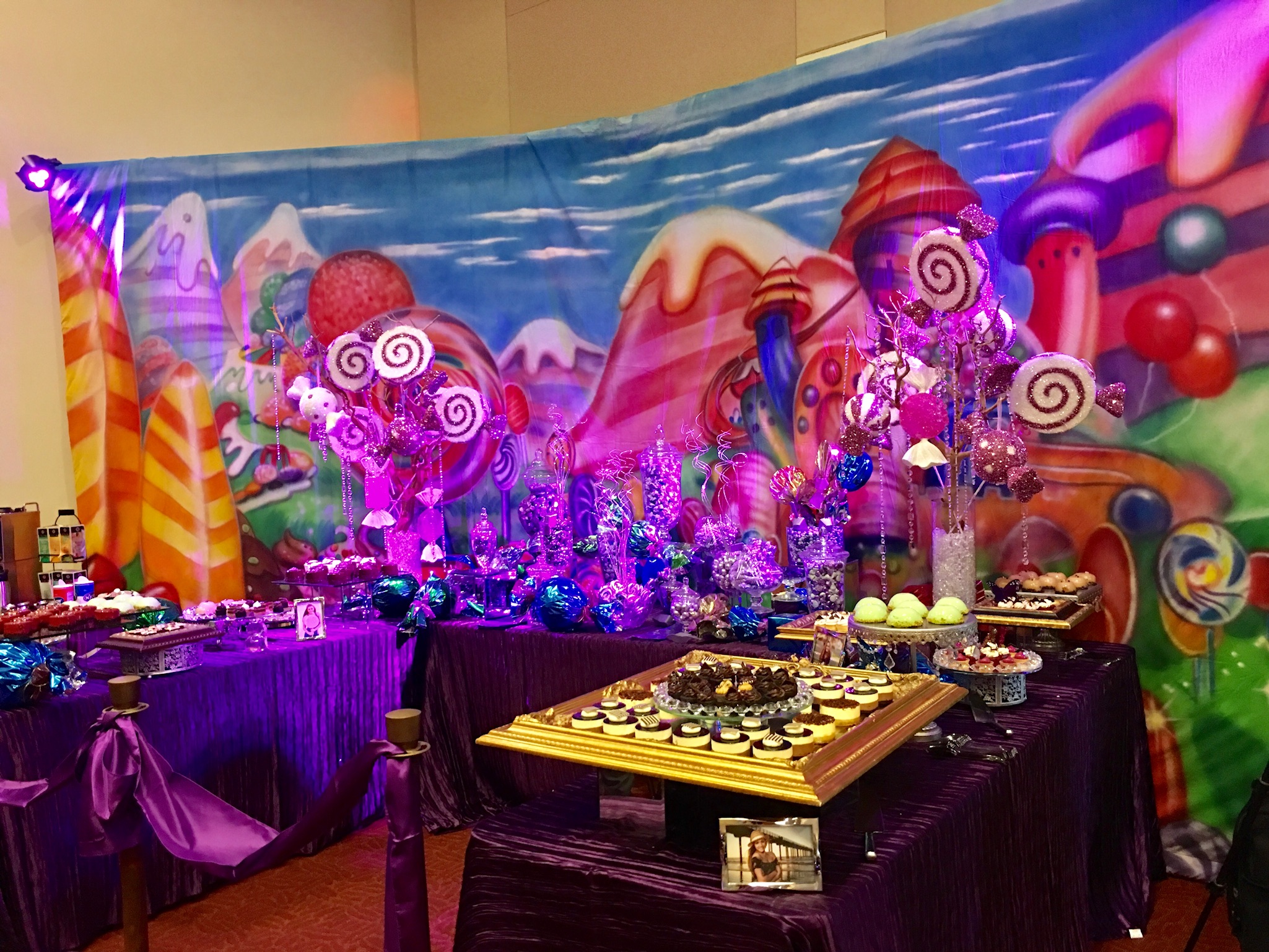 At a Candyland themed event, all of your guests will expect a decadent and delicious dessert table. Provide the most scrumptious sweets, so your guests can taste your theme. From candy to donuts to mini cakes and cookies, your sweet tooth will be satisfied.
5. When in Doubt, Wrap the Room!

To create a completely immersive experience for your guests, wrap your room in backdrops! Wherever your guests will look, they'll be reminded of your sweet theme. Many of our Candyland backdrops are painted side by side in order to make a room wrap more effortless!
Planning a different themed event? Browse our panels to see other backdrops that can be used for room wraps!
Tags: backdrop your event, bat mitzvah, candyland, candyland party, Events, party ideas