Xmas Home 2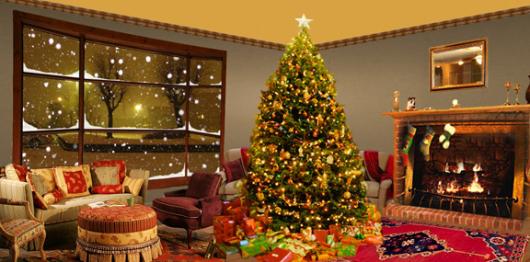 This image is a representation of our painted backdrop. Actual photo available upon request.
Backdrop Specifications:
Backdrop Name: Xmas Home 2
Backdrop SKU: WW-4020-0226
Backdrop Size: W40ft X H20ft
Backdrop Weight: Approx. 32 lbs

Our Xmas Home 2 backdrop is one of a series of backdrops that represents the ultimate Christmas decorated home in the winter season. This backdrop depicts a unique view of the inside of a home during Christmas time that would be an ideal backdrop for an assortment of events, from dances to plays to Christmas parties and much more. This backdrop can be found in the Winter Backdrops category, as well as the Holiday Backdrops category, showing its flexibility as a backdrop to be applied to a winter or holiday event. The glowing star, as well as the colorful ornaments, completes the decoration of the ultimate Christmas tree during the winter season. This backdrop could represent a spectacular Christmas Eve, Christmas night, or any other holiday night during winter time. Through the frosty window, the snow trickles down as the outside lights illuminate the dark night. The presents brighten up the living room with their colorful wrapping as they crowd around the decorated tree. The warmth of the fire is felt in contrast to the cold winter weather outside and is complimented by red, green, and white colored stockings. Although this backdrop is listed as 40ft wide by 20ft high, we offer this backdrop in any custom size that is requested. We insist on the highest quality of backdrops by using our talented artists to create custom designs with a detailed airbrush technique. This backdrop you are viewing is a digital image of our backdrop; feel free to request photos of the painted backdrop for your viewing. This backdrop is available for your purchase or rent for any period of time. Pricing is available upon request and please let our sales team know of any questions that you have regarding our backdrops and we will be happy to assist you!
---