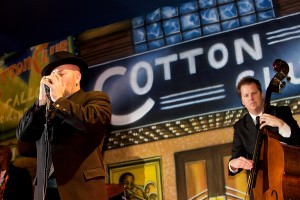 The San Diego Chapter of Meeting Professionals International (SDMPI) held its annual holiday party on December 8, 2009 with a Golden Age of Las Vegas theme. The event took place at the beautiful U.S. Grant Hotel in the historic Gaslamp Quarter. Everyone was serenaded back into time by the smooth crooning of Old Blue Eyes and the rest of the Rat Pack.
The evening began with the sophisticated sounds of Sinatra, cocktails at old fashion pricing, and the opportunity to bid on fabulous silent auction items. Following cocktail hour, attendees moved into the Celestial Ballroom for an elegant plated dinner along with an entertaining dinner show highlighting San Diego's Premier Male Jazz Vocalist and Master of Ceremonies David Patrone. The nostalgic evening concluded with the much anticipated annual live auction by the professional Pierre Charmasson. All proceeds from the silent and live auction benefited the children of the Monarch School. The event helped raise over $6000 in cash.
Monarch School is a remarkable San Diego school that, along with its committed team of teachers, administration and volunteers, is dedicated to providing homeless and at-risk children with an accredited education while caring for their basic needs. Today, more than 100 kids between the ages of 7 and 18 are enrolled at Monarch School and SDMPI is proud to support their efforts.
The event was a huge success thanks to the Holiday Committee and the vendors who donated their time and services. The holiday committee worked very hard and dedicated many hours toward making the event special and memorable. Rita and the staff of the U.S. Grant Hotel provided a decadent dinner and five star service. Mercedes and the Event Supplier Inc. team did an amazing job with the spectacular décor. It was a breathtaking moment walking into the ballroom and seeing the transformation. The linens, flowers, chair covers, etc. were exquisite. Backdrops Beautiful provided all the beautiful themed backdrops.
"I would like to be remembered as a man who had a wonderful time living life, a man who had good friends, fine family – and I don't think I could ask for anything more than that, actually." – Frank Sinatra
All photographs were taken by Victor Goodpasture.
Tags: backdrop, backdrops, David Patrone, Event Supplier Inc, Events, Frank Sinatra, Gaslamp Quarter, Monarch School, MPI, Pierre Charmasson, Rat Pack, San Diego MPI, U.S. Grant Hotel, Victor Goodpasture