Street Market 1B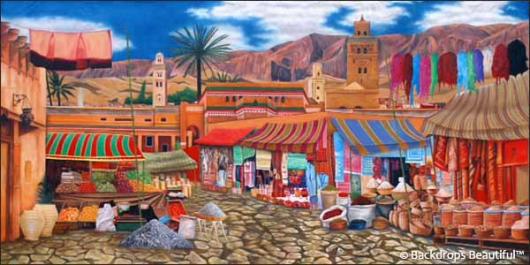 This image is an actual photograph of the hand-painted backdrop.
Backdrop Specifications:
Backdrop Name: Street Market 1B
Backdrop SKU: AF-4020-0033
Backdrop Size: W40ft X H20ft
Backdrop Weight: Approx. 32 lbs
Travel to a foreign village with the Street Market Backdrop. Our signature backdrop is hand painted and highly detailed. It displays a lively street market within a village. The beautiful imagine is inviting its viewers to connect with nature, while shopping for their food, clothes and household items. Walk through the market and choose from scrumptious fruits, vegetables and grains. Marvel at the handcrafted rugs, pots, and baskets. The street market resides within a classic clay structured village, which is reminiscent of towns in the colonial period. Grand mountains surround the town and touch the blue skies above them. Create a unique feeling of living in the past for the viewers of this backdrop. The Street Market Backdrop is perfect for adding a historic theme to your event or show.
---