Street Market 1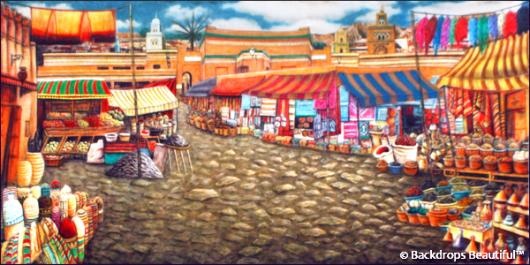 This image is an actual photograph of the hand-painted backdrop.
Backdrop Specifications:
Backdrop Name: Street Market 1
Backdrop SKU: AF-4020-0027
Backdrop Size: W40ft X H20ft
Backdrop Weight: Approx. 32 lbs
We enter the lively streets of a cobble stoned village. A farmer's market displays goods of all sorts under brightly colored tents and umbrellas. Boxes and shelves filled with produce, carefully sculpted pottery, candies, cloths and other materials are up for sale at these various street vendors. It's a sunny day: clear blue skies and a bright sun peeking through the puffy white clouds that sit merrily above. It's a perfect day to wander the streets and do a little shopping. Behind this outdoor market we see the tips of taller buildings and in the distance you can just barely make out the image of more crowded streets. These colorful buildings and houses suggest a large city with a large population. While the streets are empty now, one can only imagine they will be filled in due time with people of all ages examining what there is to offer. This backdrop will give your special event a perfect look into a town you wish you lived in.
---