Street Cafe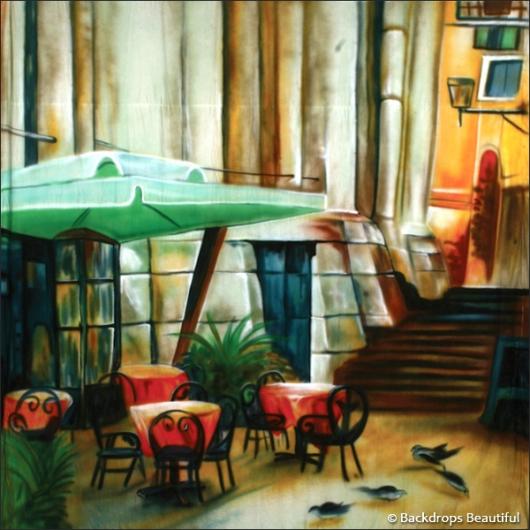 This image is an actual photograph of the hand-painted backdrop.
Backdrop Specifications:
Backdrop Name: Street Cafe
Backdrop SKU: EU-1010-1701
Backdrop Size: W10ft X H10ft
Backdrop Weight: Approx. 5 lbs
Here we enter the streets of a town that is home to a popular outdoor café. Bright green Umbrellas hang over a neat arrangement of small circular tables, draped in fancy red cloths. Black chairs with swirly back designs are seated around the tables, welcoming guests to take their time enjoying their food and conversation out on the patio. The windows to the inside of the café are visible from the outdoor seating, and are simply breathtaking. They appear to be blue and yellow stained glass and give a feel of classiness and elegance. Further down the alley in which this street café is located, there is a set of stairs that lead to homes just around the corner. We see colored shutters that may look into the homes of people who live close to the café. A lamp protrudes from the yellow walls above the staircase and lights the street. Birds pick at spare crumbs left outside of the café and a few emerald green ferns complete the look the café intended. This backdrop will offer a real feel of being out in an exotic but beautiful town.
---