Rio Corcovado 1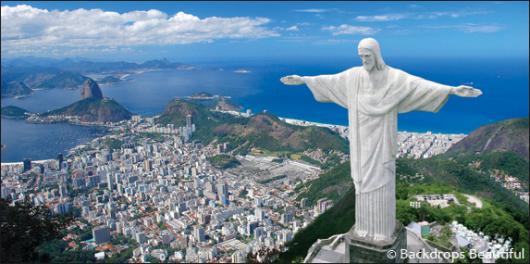 This image is a representation of our painted backdrop. Actual photo available upon request.
Backdrop Specifications:
Backdrop Name: Rio Corcovado 1
Backdrop SKU: LA-4020-1850
Backdrop Size: W40ft X H20ft
Backdrop Weight: Approx. 32 lbs
Corcovado, "hunchback" in Portuguese, is a mountain in central Rio de Janeiro, Brazil. This granite peak is located in the national park, Tijuca Forest (confused occasionally with the nearby Sugarloaf Mountain). This magnificent statue of Jesus stands atop its peak, known as Cristo Redentor or "Christ the Redeemer". Even though you are viewing a digital image, we can provide photos of the painted backdrop for viewing. We stand by the high quality of our backdrops painted by our talented artists using an airbrush technique. Remember that the best way to view a backdrop of this size is to stand back at least 20-200ft and enjoy the ambiance it creates. You may purchase this backdrop or rent it from us for any length of time. Since the pricing of all of our backdrops is available upon request, our sales team is eagerly standing by to assist with any questions regarding your event and our backdrops!
---