Fantasy World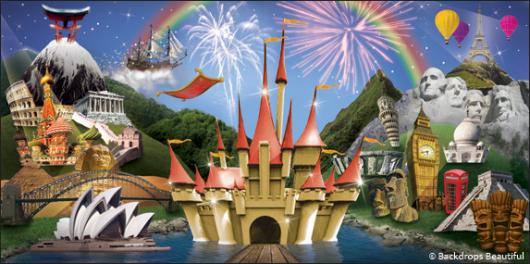 This image is a representation of our painted backdrop. Actual photo available upon request.
Backdrop Specifications:
Backdrop Name: Fantasy World
Backdrop SKU: FT-4020-2114
Backdrop Size: W40ft X H20ft
Backdrop Weight: Approx. 32 lbs
Travel to the world, and visit a realm of imagination with our Fantasy World backdrop! This backdrop portrays a fantasy castle surrounded by the world's most famous landmarks all in one place. Visit the sacred place of Shangri-La in China, Rome's coliseum, and the ancient Sphinx of Egypt. Sydney's Opera House floats in the moat the surround the fantasy castle, which has towers capped with red cones and yellow triangular flags. Just atop the hill in the distance are the Eiffel Tower of Paris and Mount Rushmore of South Dakota. You will find the Taj Mahal and Big Ben by the water's shore alongside the great pyramid of Chichen Itza and Tiki statues of Polynesia. Magic carpets and pirate ships fly in the sky as fireworks create a brilliant show. Our Fantasy World backdrop is sure to make a dazzling impression at any special event or recital. This backdrop is 40 feet wide and 20 feet high, and other sizes are available. We also offer several similar backdrops featuring fantasy castle scenes, which can be found under our Celebration and Dance categories. Even though you are viewing a digital image, we can provide photos of the painted backdrop for viewing. We stand by the high quality of our backdrops painted by our talented artists using an airbrush technique. Lighting will enhance the color and detail in our backdrops. Remember that the best way to view a backdrop of this size is to stand back at least 20-200 feet and enjoy the atmosphere it creates. Please refer to our hanging instructions to learn the best way to display this backdrop for your special event. You may purchase this backdrop or rent it from us for any length of time. Since the pricing of all of our backdrops is available upon request, our sales team is eagerly standing by to assist with any questions regarding your event and our backdrops!
---