Egyptian Tomb 3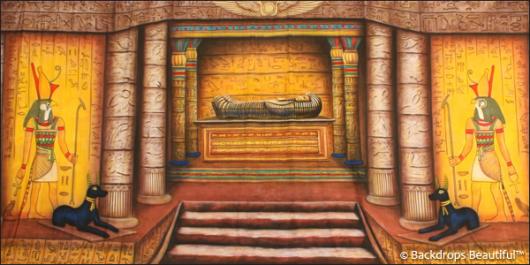 This image is an actual photograph of the hand-painted backdrop.
Backdrop Specifications:
Backdrop Name: Egyptian Tomb 3
Backdrop SKU: ME-4020-0123
Backdrop Size: W40ft X H20ft
Backdrop Weight: Approx. 32 lbs

Our Egyptian Tomb 3 backdrop is one of a series of three backdrops portraying a historic tomb in time of ancient Egypt. This scene is rich in culture and authentic artifacts. Picture yourself visiting the coveted vault of Tutankhamen (King Tut), the most famous king to rule Egypt. His tomb is said to be hidden so that nobody could find him, but this backdrop takes you right into his secret chamber filled with mysteriously coded hieroglyphs and historic artifacts. King Tut's golden crypt is located just up a staircase, surrounded by ancient columns that tell the stories of King Tut's life. Hieroglyphics that line the walls are full of remarkable tales that took place thousands of years ago. The black jackal is the King's guardian who protects him in the afterlife. The painting of the Egyptian god, Horus, depicts a falcon's head on a man's body. This symbolizes resurrection and eternal life after death. Egyptian Tomb3 will bring an authentic scene to your special event and create a unique experience for all those in attendance. This backdrop is 40ft wide by 20ft high, and other sizes are also available. Even though you are viewing a digital image, we can provide photos of the painted backdrop for viewing. The high quality of our backdrops are achieved by our talented artists using an airbrush technique to hand paint each piece. The best way to view a backdrop of this size is to stand back at least 20-200ft and enjoy the environment it creates. Lighting will enhance the color and detail in every backdrop. Please refer to the hanging instructions to learn the best way to display this backdrop for your special event. You may purchase this backdrop or rent it from us for any length of time. Since the pricing of all of our backdrops is available upon request, our sales team is eagerly standing by to assist with any questions regarding your event and our backdrops!
---