Egypt Scene 1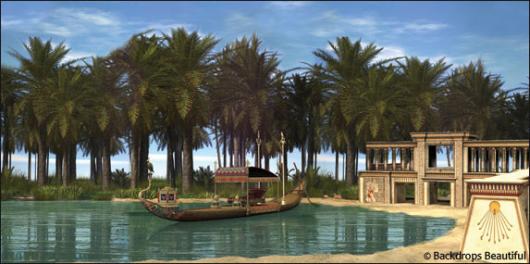 This image is a representation of our painted backdrop. Actual photo available upon request.
Backdrop Specifications:
Backdrop Name: Egypt Scene 1
Backdrop SKU: ME-4020-0114
Backdrop Size: W40ft X H20ft
Backdrop Weight: Approx. 32 lbs
Our Egypt Scene 1 backdrop is one of a series of backdrops depicting a calm Egyptian oasis in early morning or afternoon. The sky blue and scattered with small white clouds on a beautiful afternoon, creating a serene setting. The tall trees block off the rest of civilization to create an intimate setting and a private place to relax by the water. An authentic Egyptian gondola can take you on a gentle boat ride by floating across the tranquil water while basking in the mid-day sunshine. Take in the Egyptian culture with genuine art and fine architecture. The Egyptian terrace on the shore invites you back into the shade when the day is over. Egypt Scene1 is 40ft wide and 20ft high, and other sizes are also available like Egypt Scene2. Even though you are viewing a digital image, we will provide photos of the painted backdrop for viewing. The high quality of our backdrops are achieved by our talented artists using the airbrushing technique to hand paint each piece. Our artists created this realistic scene with all the minute details in mind. Egypt Scene 1 is a great addition to any event, and it will create a unique experience for all in attendance. Remember that the best way to view a backdrop of this size is to stand back at least 20-200ft and enjoy the atmosphere it creates. Keep in mind that lighting can also enhance the color and detail in our backdrops. You may purchase this backdrop or rent it from us for any length of time. Since the pricing of all of our backdrops is available upon request, our sales team is eagerly standing by to assist with any questions regarding your event and our backdrops! Please refer to our hanging instructions to learn the best way to display this backdrop for your special event.
---