Asian Landscape 2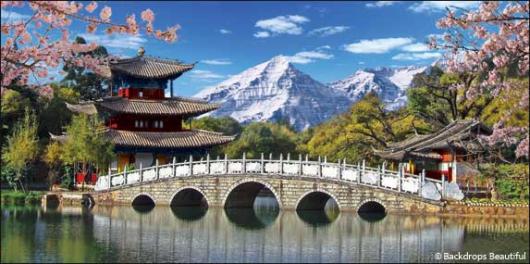 This image is a representation of our painted backdrop. Actual photo available upon request.
Backdrop Specifications:
Backdrop Name: Asian Landscape 2
Backdrop SKU: AS-5022-00580
Backdrop Size: W50ft X H22ft
Backdrop Weight: Approx. 45 lbs
Take in the peaceful scenery with our Asian Landscape 1 backdrop. This scene portrays a legendary Asian pagoda nestled in the forest, overlooking a sturdy bridge and a calm lake. The beautiful Asian architecture is built with three tiers and coated with red paint, the color of happiness and prosperity in Chinese culture. The bridge takes you from the pagoda and over to the lake�s shore where the sunlight ripples on the calm water. The buds on the cherry blossom trees bloom into light pink flowers that sway in the cool breeze. The Himalayan Mountains stand honorably just beyond the quiet forest, dusted with fresh white snow. The peak of the mountain is high enough to meet the clouds in the bright blue sky. This scene will add a soothing ambiance to your special event, and it will create a unique experience for all those in attendance. This backdrop is 40ft wide by 20ft high, and other sizes are also available. Even though you are viewing a digital image, we can provide photos of the painted backdrop for viewing. We stand by the high quality of our backdrops painted by our talented artists using an airbrush technique. Remember that the best way to view a backdrop of this size is to stand back at least 20-200ft and enjoy the atmosphere it creates. Keep in mind that lighting can also enhance the color and detail in our backdrops. Please refer to our hanging instructions to learn the best way to display this backdrop for your special event. You may purchase this backdrop or rent it from us for any length of time. Since the pricing of all of our backdrops is available upon request, our sales team is eagerly standing by to assist with any questions regarding your event and our backdrops!
---