Around the World 8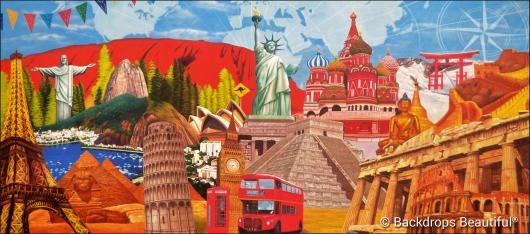 This image is an actual photograph of the hand-painted backdrop.
Backdrop Specifications:
Backdrop Name: Around the World 8
Backdrop SKU: TR-5022-1342
Backdrop Size: W50ft X H22ft
Backdrop Weight: Approx. 45 lbs

Our Around the World 8 backdrop is one of a series of backdrops depicting a collage of famous landmarks located all over the world. Travel around the globe to historic sites without setting foot on a plane. Enjoy the elegance of the Eiffel Tower in Paris, and visit the ancient pyramids of Egypt. Take a trip to the Leaning Tower of Pisa in Rome, Italy. Even visit the Statue of Liberty in New York and the sandy dunes in Australia. This backdrop also takes you to the ancient Mayan landmark, Chichen Itza, in Mexico. A proud lion represents the deserts of Africa as the dual-level bus takes you to Big Ben in the heart of London. Pass through St. Petersburg to visit the castles in Russia, and end your journey at Shangri La in the beautiful mountains in China. Around the World 2 is 40ft wide and 20ft high and other sizes are available. Even though you are viewing a digital image, we can provide photos of the painted backdrop for viewing. Around the World 3 will create a conversation piece and add a special experience to your event. We stand by the high quality of our backdrops painted by our talented artists using an airbrush technique. Keep in mind that lighting can also enhance the color and detail in our backdrops. Remember that the best way to view a backdrop of this size is to stand back at least 20-200ft and enjoy the atmosphere it creates. Please refer to our hanging instructions to learn the best way to display this backdrop for your special event. You may purchase this backdrop or rent it from us for any length of time. Since the pricing of all of our backdrops is available upon request, our sales team is eagerly standing by to assist with any questions regarding your event and our backdrops! Be inspired to travel by this gorgeous backdrop.
---