Airplane 1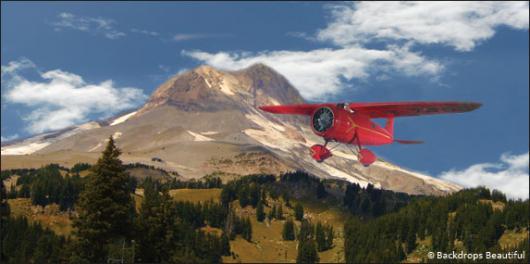 This image is a representation of our painted backdrop. Actual photo available upon request.
Backdrop Specifications:
Backdrop Name: Airplane 1
Backdrop SKU: TR-4020-1305
Backdrop Size: W40ft X H20ft
Backdrop Weight: Approx. 32 lbs
Need to get away for the weekend? Escape into our Airplane 1 backdrop via a small red plane. As you fly, peer out the window and allow yourself to become engaged with the natural phenomenon that meets your eyes. Whether you're more of a camper or a mountain climber, or even just a sight seer, this location is sure to fulfill your needs and wants. It has everything to offer the nature enthusiast. In our 40 foot wide, 20 foot tall display we feature a bird's eye view of a natural outdoor setting somewhere with mountains and valleys. Using careful airbrush techniques, our artists manage to portray this wildlife scene realistically, making you feel as though you could step right into the setting and be lost in the wilderness. The valley that lies beneath the mountain is a yellowish green, dry from the summer weather. Tall dark pine trees are scattered throughout the valley, creating various spots of shade for the occasional wanderer. As the valley stretches further, it reaches the beginnings of a massive mountain. Immensely wide at the base, this mountain is sure to cover a lot of ground. Using earthy tones of brown, beige, and off-white, our artists have carefully shaded the mountain to realistically represent a real life formation. Hang this backdrop at your party or event to show your guests your sense of adventure and allow them to venture into a whole new world.
---