Winter Trees 10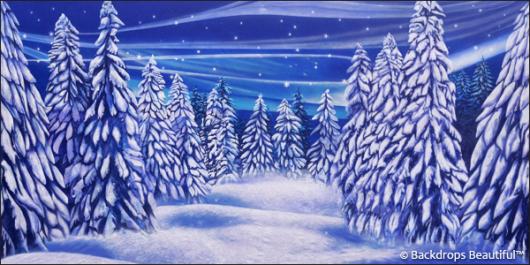 This image is an actual photograph of the hand-painted backdrop.
Backdrop Specifications:
Backdrop Name: Winter Trees 10
Backdrop SKU: WW-4020-5562
Backdrop Size: W40ft X H20ft
Backdrop Weight: Approx. 32 lbs
Winter dreams�the serenity of snow and trees under the moon of a winter night. Easy to imagine that just prior to this starry night, a snowstorm suddenly came and went, leaving behind one of nature�s loveliest vistas, a carpet of unspoiled snow, clean, hushed, perhaps awaiting the crunch of the first visitor�s footstep or the swish of skis. To some such a scene might recall the holidays, to others perhaps a snow vacation, to still others images of a mountain lodge with hot drinks and a blazing fireplace. We sometimes take for granted the changing of the seasons, but the winter landscape reminds us of their annual, rhythmic motion, stately, slow and as patient as time. Mutely beautiful, the landscape of winter speaks eloquently for itself: the sleeping calmness of the earth as it awaits renewal, and the promise of the coming spring.
---