Xmas Trees 5a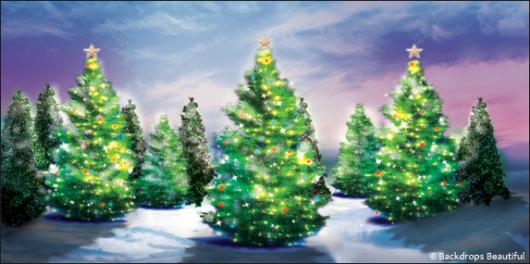 This image is a representation of our painted backdrop. Actual photo available upon request.
Backdrop Specifications:
Backdrop Name: Xmas Trees 5a
Backdrop SKU: WW-4020-0257
Backdrop Size: W40ft X H20ft
Backdrop Weight: Approx. 32 lbs

Our Xmas Trees 5a Backdrop will have your guests experiencing the magic of winter. This beautiful scene displays several Christmas trees on a blanket of snow with a mystical sky. Several of the trees are decorated with multi-colored Christmas lights and bright yellow stars. Some snow covers the branches on the trees giving them a sparkling effect that appear to be a set of extra white lights. The sky is composed of purple, pink and blue hues and a few clouds, setting a magical mood for a fantastic winter wonderland. Our backdrop will definitely portray a dazzling scene for your special event or dance recital.
This backdrop can be the perfect background to a Christmas Carol Concert. With the proper lighting you can change the ambiance of our Xmas Trees 5a Backdrop. You can create a gloomy effect or highlight all the bright colors even further to create a 3D illusion. The best part about our company is that we carry several sizes for most of our backdrop inventory. This particular backdrop is 40 feet wide by 40 feet tall, but we offer it in a 10 x 10 as well for all smaller productions.
If you come across a backdrop design and you feel it is not the correct size for your event please give us a call and we can suggest other options or create a custom backdrop. We offer custom design backdrop rentals and sales. Depending on the length of your event or budget we will suggest what route for you to take, but please call us ahead of time especially during the Christmas season. Most of our
Christmas Backdrops
get booked out 3 months in advance due to their popularity.
We love to see our backdrops in action so make sure to take pictures of your event and you could be one of our many customers that we mention in our eNewsletter. Your event might end up being an inspiration to someone else. In addition, your event ends up getting more exposure on the web by our site and our blog.
---