Mansion Interior 1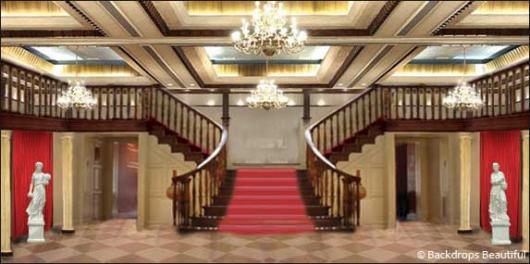 This image is a representation of our painted backdrop. Actual photo available upon request.
Backdrop Specifications:
Backdrop Name: Mansion Interior 1
Backdrop SKU: IN-4020-0806
Backdrop Size: W40ft X H20ft
Backdrop Weight: Approx. 32 lbs

Ever dreamed of accumulating all the wealth you desire? Let our Mansion Interior backdrop take you there with this realistic life sized visual of the inside of your dream home. A grand staircase is the first thing that catches our attention as we stand back and admire this backdrop. Imagine being picked up on a date and making an appearance in this room! Talk about a dramatic entrance. This must�ve been how Cinderella felt as she came to greet her prince charming. That comparison is reasonable, considering this room is something out of a fairytale. Everything in the interior of this mansion is fancy and elegant- from the glowing chandelier that dangles from the ceiling to the royal red and orange drapes that hang over the many upstairs windows, to the sturdy white pillars that hold up the upstairs hallway- it�s all magnificent. The stairs themselves are a bold red and gold, similar to the colors of our favorite Harry Potter house (Gryffindor). The colors and style of the staircase add to the regal atmosphere of the already classy room. Although it�s not hugely featured in this backdrop, also take a moment to look at the ceiling and admire the color patterns once again as they are so carefully painted here as well. Turn your home or any other location into a dream with this mansion interior backdrop!
---