Indian Taj Mahal 1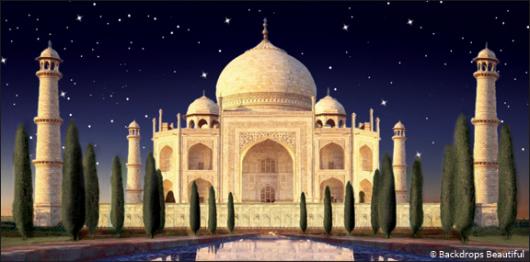 This image is a representation of our painted backdrop. Actual photo available upon request.
Backdrop Specifications:
Backdrop Name: Indian Taj Mahal 1
Backdrop SKU: AS-4020-0054
Backdrop Size: W40ft X H20ft
Backdrop Weight: Approx. 32 lbs
Take a trip to one of the eight wonders of the world with our Taj Mahal 1 backdrop! The Taj Mahal is one India's most beautiful monuments, admired because of its intricate architecture and towering presence. This scene depicts the stunning structure under a starry night sky. The light of the full moon exposes the details on its exterior. The outside garden surrounds a reflective pool, which glistens under the moonlight. The Taj Mahal was built by Muslim Emperor, Shah Jahan, in memory of wife and queen, Mumtaz Mahal. The build took 22 years and 20,000 workers to finish the structure in 1648. The entire structure is made of marble and sits on a raised, square platform. Tourists come from all over the world to experience the beauty of India's architectural jewel. Indian Taj Mahal 1 is 40ft wide and 20ft high and other sizes are available; refer to Taj Mahal 2 and Taj Mahal 3. Even though you are viewing a digital image, we can provide photos of the painted backdrop for viewing. This backdrop will offer a gorgeous global landmark to set the scene for your special event, and it is sure to make an impression on all those in attendance. We stand by the high quality of our backdrops painted by our talented artists using an airbrush technique. Keep in mind that lighting can also enhance the color and detail in our backdrops. Remember that the best way to view a backdrop of this size is to stand back at least 20-200ft and enjoy the atmosphere it creates. Please refer to our hanging instructions to learn the best way to display this backdrop for your special event. You may purchase this backdrop or rent it from us for any length of time. Since the pricing of all of our backdrops is available upon request, our sales team is eagerly standing by to assist with any questions regarding your event and our backdrops!
---