Times Square 2B Retro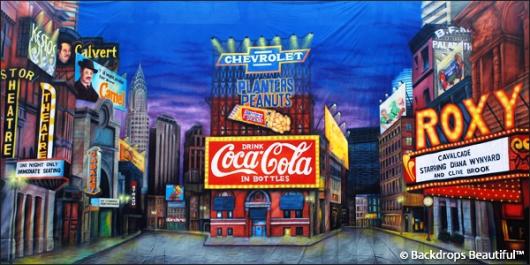 This image is an actual photograph of the hand-painted backdrop.
Backdrop Specifications:
Backdrop Name: Times Square 2B Retro
Backdrop SKU: US-4020-3526
Backdrop Size: W40ft X H20ft
Backdrop Weight: Approx. 32 lbs

Travel into the past of New York City with the Times Square Retro Backdrop. Our signature backdrop is hand painted and highly detailed. It displays Times Square as it was, before the many taxis flooded its streets, and before the extravagant and overwhelming nightlife that inhibits the city today. Hop on the city trolley, and pass the old fashioned skyscrapers, or walk into the vibrant Roxy theatre, and catch the classic show, Caralcade. The old- advertisements of Coca-Cola, Planters Peanuts and Chevrolet are present among the many skyscrapers and theatres. The large billboards and signs that line Times Square are adorned with glistening light bulbs, and flicker as they illuminate they city. The Times Square Retro Backdrop is perfect for New York themed events or shows that want to add a classic element of the past.
---