San Diego by Night 3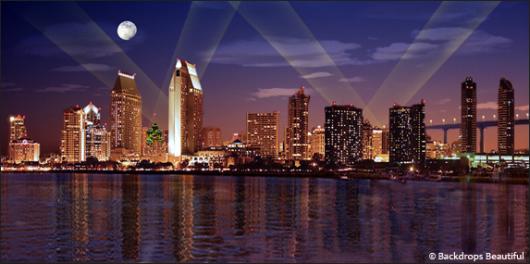 This image is a representation of our painted backdrop. Actual photo available upon request.
Backdrop Specifications:
Backdrop Name: San Diego by Night 3
Backdrop SKU: US-4020-0381
Backdrop Size: W40ft X H20ft
Backdrop Weight: Approx. 32 lbs
Our favorite city and hometown is featured here in our San Diego by Night 3 backdrop. Whether you are a native or new to the area, there is just something about San Diego that draws people of all ages and genders in. San Diego has everything to offer. The list of places to go and sights to see in San Diego is a long one and ranges from heading to Mission Beach for a day in the sun and water, to exploring museums in Balboa Park, to wining and dining and clubbing in the downtown area of San Diego. Those are only a few snippets of what life is like in San Diego and believe me it has much more to offer. Painted here on our San Diego by Night backdrop we see downtown San Diego lit up by the many office buildings, hotels, clubs and restaurants squeezed into the massive area. It's easy to get lost amongst the one way streets and hundreds of places to go, but it's an exciting kind of overwhelming feeling as opposed to a stressful one. Our backdrop demonstrates how closely packed all of the buildings are, typical of city life. Not only are we lucky enough to have this city filled with entertainment options, it rests along the bay which is just as pretty at night as it is during the day. As the sun sets and the moon appears in the top left corner, a magical array of colors splashes over the sky and creates a stunning visual. This seamless sunset portrayal is sure to draw the guests at your event in, in the same way it draws thousands of viewers in each night in real life.
---