On the Go 1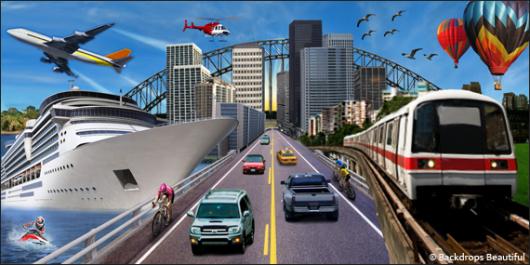 This image is a representation of our painted backdrop. Actual photo available upon request.
Backdrop Specifications:
Backdrop Name: On the Go 1
Backdrop SKU: TR-4020-1323
Backdrop Size: W40ft X H20ft
Backdrop Weight: Approx. 32 lbs

Brace yourself for the hustle and bustle of this On the Go backdrop! Set against a bright blue sky, an action-packed scene meets our eyes. Worlds collide as trains pass over cars, ships nearly miss jet skiers, bikers race down the freeway and helicopters fly over buildings. Airplanes soar to the left while hot air balloons take off and birds play their part as well as they migrate to their next destination. There is so much commotion that if your goal is to create a feeling of excitement and urgency, this backdrop will absolutely do the trick. It's a beautiful day to be busy, and in our On the Go 1 backdrop we feature almost all of the plausible ways to get around in today's society. On The Go 1 is a 40 ft by 20 ft masterpiece that will surely liven your event.
---