Hawaii 1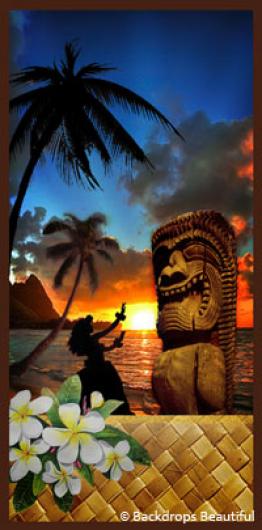 This image is a representation of our painted backdrop. Actual photo available upon request.
Backdrop Specifications:
Backdrop Name: Hawaii 1
Backdrop SKU: US-1020-0349
Backdrop Size: W10ft X H20ft
Backdrop Weight: Approx. 8 lbs
Visit the exotic Hawaiian islands with our Hawaii 1 backdrop. This scene portrays a blazing orange sun setting along the horizon behind a cluster of white clouds drifting above the ocean. The colors of the sky blend from cool to warm before it fills up with a dark violet as the night approaches. The palm trees sway with the warm breeze as a beautiful Wahine dances hula on the shore. She tells a story with her hands as her hips swing to the beat of a steady drum. Flowery bracelets, leis, and headdresses adorn her body as she continues her choreographed performance. A statue of an ancient Tiki god looks on, representing light and life. The scene comes together with a bouquet of white plumeria flowers, exuding the spirit of Hawaii. Our Hawaii 1 will set a unique scene for your special event or recital. This backdrop is 10ft wide and 20ft high, and other sizes are available. We also offer similar backdrops depicting beach and coastal scenes. These can be found under our Beach Backdrops category. Even though you are viewing a digital image, we can provide photos of the painted backdrop for viewing. We stand by the high quality of our backdrops painted by our talented artists using an airbrush technique. Lighting will enhance the color and detail in our backdrops. Remember that the best way to view a backdrop of this size is to stand back at least 20-200ft and enjoy the atmosphere it creates. Please refer to our hanging instructions to learn the best way to display this backdrop for your special event. You may purchase this backdrop or rent it from us for any length of time. Since the pricing of all of our backdrops is available upon request, our sales team is eagerly standing by to assist with any questions regarding your event and our backdrops!
---