Coronado Waterfront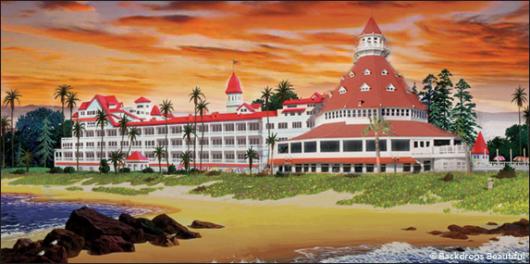 This image is a representation of our painted backdrop. Actual photo available upon request.
Backdrop Specifications:
Backdrop Name: Coronado Waterfront
Backdrop SKU: US-2010-0355
Backdrop Size: W20ft X H10ft
Backdrop Weight: Approx. 8 lbs
Feel like royalty as you visit the Hotel del Coronado with our Coronado Waterfront backdrop. Coronado is located in Southern California, just across the San Diego Bay from downtown San Diego. The Hotel del Coronado, portrayed in this backdrop, is one of the oldest and largest all-wooden buildings in California. Its Victorian beach resort design is an example of vintage American architecture. When it opened in 1888, it was the largest resort hotel in the world. In 1977, it was designated as a National Historic Landmark. Today, the hotel boasts a four diamond rating and is host to countless celebrities. It has even made appearances in films, books, and music videos. The structure's classic lines and rustic color scheme creates a striking silhouette against the sunset. The waters of the Pacific Ocean rush onto Coronado Beach, which is rated one of America's finest beaches. Tourists from around the world make sure to visit Coronado and experience its classic beauty. This backdrop is 20ft wide and 10ft high, and other sizes are available. Even though you are viewing a digital image, we can provide photos of the painted backdrop for viewing. We stand by the high quality of our backdrops painted by our talented artists using an airbrush technique. Lighting will enhance the color and detail in our backdrops. Remember that the best way to view a backdrop of this size is to stand back at least 20-200ft and enjoy the atmosphere it creates. Please refer to our hanging instructions to learn the best way to display this backdrop for your special event. You may purchase this backdrop or rent it from us for any length of time. Since the pricing of all of our backdrops is available upon request, our sales team is eagerly standing by to assist with any questions regarding your event and our backdrops!
---