Campsite 1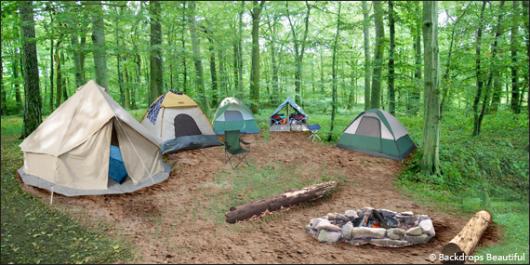 This image is a representation of our painted backdrop. Actual photo available upon request.
Backdrop Specifications:
Backdrop Name: Campsite 1
Backdrop SKU: JF-4020-0538
Backdrop Size: W40ft X H20ft
Backdrop Weight: Approx. 32 lbs
There are fewer things more therapeutic or calming than a weekend away in the woods. Camping is all about being in touch with nature and taking time for you and your family or friends. Technology is unnecessary when you have a massive green forest to explore, marshmallows to roast, and tents to pitch. Get comfy on the earth's floor in our Campsite 1 backdrop where we feature five tents, a fire pit and all natural surroundings. If taking an actual vacation to the middle of nowhere isn't an option for you right now, maybe you can simply indulge in our 40 ft wide 20 ft tall realistic image of a campsite. One can almost feel the peace and quiet of the empty campgrounds and towering trees. Earthy tones like brown and beige comprise the floor and give a realistic dirt appearance to the campground. Different shades of green are used to fill the forest. Tall trees of different widths are painted in these varying shades- from lime green to a green the shade of romaine lettuce, there is no shortage of the color. It's a nice color to see because when you're living in a city or the suburbs, the amount of times you're actually surrounded by nature is few to none. Kick back and relax as you hang up this campsite 1 backdrop and stand back to admire the tranquil setting.
---