Grand Mansion 1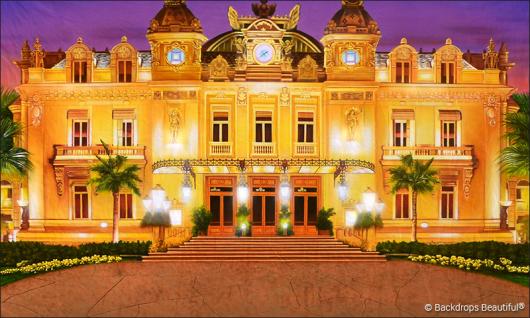 This image is an actual photograph of the hand-painted backdrop.
Backdrop Specifications:
Backdrop Name: Grand Mansion 1
Backdrop SKU: EU-2012-1815
Backdrop Size: W20ft X H12ft
Backdrop Weight: Approx. 10 lbs

This signature backdrop with the luster of golden hues will help to convey an aura of glamour and sophistication for every event. Whether it's the Gatsby theme or simply needed for a professional event. The doors call to enter the palatial mansion and enter a realm of beauty. while the sunsets mesmerize your imagination. The European-style casino itself is a modern and pleasing structure. Who wouldn't like to take a tour to see what secrets it holds? The many windows and doors give the structure silky yet ample light for when the sun finally rises, as well as a view into the well maintained lawns. The green palms typically frame the grand entrance that leads to the center of the action awaiting inside. The huge and giant clock in centered in the building, as well as towers adorned with domes. Those statues of angels once more alongside the clock, as if to protect it from each side from guests not welcomed. Step inside our mansion and let your imagination run wild!
---