Tree 2 Seasons (Alt View)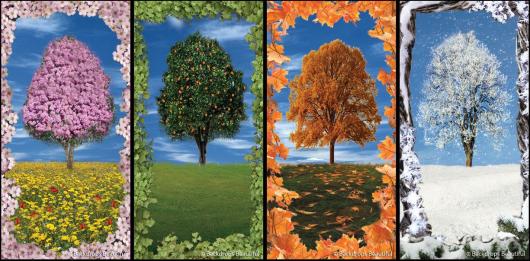 This image is a representation of our painted backdrop. Actual photo available upon request.
Backdrop Specifications:
Backdrop Name: Tree 2 Seasons (Alt View)
Backdrop SKU: LS-4020-2507
Backdrop Size: W40ft X H20ft
Backdrop Weight: Approx. 32 lbs
This panel is actually 4 backdrops hung side by side to create the panel affect. A great way to use this panel, is to independently uplight one season at a time. It is most versatile!
Experience an entire year with just one glance at our Tree 2 Seasons backdrop! Featuring a panel-style representation of the four seasons, we travel from spring to summer to fall to winter at top speed. We see the effects of Mother Nature and the weather changes over the course of a year on a single tree that rests in a grassy meadow. Our box on the far left is a portrayal of Spring. We have a fantastic lavender flower border, lining the edges of this panel with floral decorations. The meadow is also covered in flowers- bright yellows and reds meet our eyes as we are drawn in by the overall cheeriness of the setting. The tree in question is placed front and center, fully covered in these lavender flowers. It's a bright and happy image and immediately reminds one of spring time. In our next panel we see the tree green as ever, standing out in the sun on a summer day. Fruit is now visible between the branches and a leafy border greets us, completing the very-green look of the summer season. Just around the corner is fall and we experience a drastic change in color as the leaves begin to die, but in no way do they lose their beauty. If anything, fall leaves are even better looking than fresh green ones. Red and orange, the leaves brightly hang to the branches and some fall to the ground just waiting to be crunched under the foot of a child playing outside. These autumn leaves are aligned side by side on the edges of the box for a fantastic fall border. Last but not least, we arrive at the winter panel. With an icy border, we venture into the cold outdoors where an almost bare tree is weighed down with heavy snow. Looking like an image straight out of a snow globe, this panel takes you straight to your own personal winter wonderland! Together these seasonal panels complement each other and give the viewer a smooth transition through the year. Bring the year to life by adding this seasons panel to your special event or party!
---