Cruise Ship 4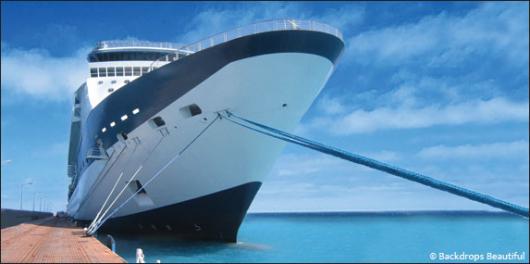 This image is a representation of our painted backdrop. Actual photo available upon request.
Backdrop Specifications:
Backdrop Name: Cruise Ship 4
Backdrop SKU: TR-3015-1309
Backdrop Size: W30ft X H15ft
Backdrop Weight: Approx. 18 lbs
Your floating vacation awaits you in our Cruise Ship 4 backdrop. This scene portrays a large cruise ship docked at a port, ready for passengers to climb onboard and embark on a journey to the tropics. Why travel to only one country when you can make several stops along the way to experience multiple cultures. Whether you�re sailing through warm Caribbean waters, across the deep blue Pacific or along the icy Atlantic, the destinations are endless. Whether it�s a weeklong trip or even for just a weekend, a trip on a cruise ship will be a vacation experience unlike any other. The ship is easily spotted on the water because of its contrasting white and black appearance. The teal blue ocean disappears along the horizon as transparent smears of clouds drift across the sky. This backdrop is 30ft wide and 15ft high, and other sizes are available. We also offer similar backdrops featuring cruise ships and waterfront landscapes which can be found under our Beach Backdrops category. Even though you are viewing a digital image, we can provide photos of the painted backdrop for viewing. We stand by the high quality of our backdrops painted by our talented artists using an airbrush technique. Lighting will enhance the color and detail in our backdrops. Remember that the best way to view a backdrop of this size is to stand back at least 20-200ft and enjoy the atmosphere it creates. Please refer to our hanging instructions to learn the best way to display this backdrop for your special event. You may purchase this backdrop or rent it from us for any length of time. Since the pricing of all of our backdrops is available upon request, our sales team is eagerly standing by to assist with any questions regarding your event and our backdrops!
---