Xmas Home 6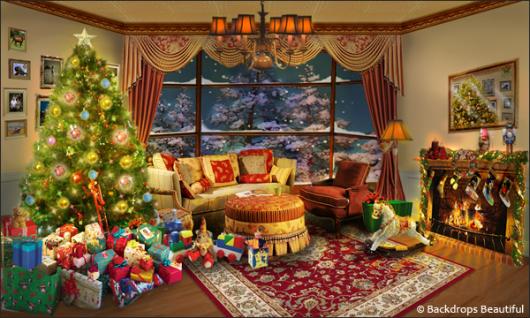 This image is a representation of our painted backdrop. Actual photo available upon request.
Backdrop Specifications:
Backdrop Name: Xmas Home 6
Backdrop SKU: WW-4025-0270
Backdrop Size: W40ft X H25ft
Backdrop Weight: Approx. 40 lbs

Home for the holidays? Our Xmas Home 6 backdrop is one of a series of backdrops that depicts a Christmas decorated home. It portrays the inside of a home during Christmas time that would be a perfect backdrop for an array of events, from plays to dances to Christmas parties and much more. This backdrop can be found in the Holiday Backdrops category, as well as the Winter Backdrops category, showing its versatility as a backdrop to be applied to a winter or holiday event. The Christmas tree is filled with beautiful ornaments and a sparkling star at top, which radiates the true Christmas spirit. The holiday of giving is shown through gifts from Santa that are placed carefully under the tree, ready to be opened at any moment. The winter weather is shown through the window as the icy snow covers the pine trees in white. The stockings are hung over the warm fire, showing an ideal environment for families and friends to get together. This backdrop reveals a perfectly decorated home for the Christmas season and the backdrop epitomizes the holiday spirit that will translate to your event. This backdrop is sized at 40ft wide by 25ft high, but we are willing to customize this and any backdrop at the size which you prefer. Using an airbrush technique, we produce the highest quality backdrops that will enhance your event to the fullest and provide the atmosphere that you are looking for. This backdrop can be purchased or rented for any length of time. Even though you are viewing a digital image of our backdrop, we can provide photos of the painted backdrop for your viewing. Any questions that you may come across regarding our backdrops can be answered by our sales team that is ready to assist you at your convenience! Pricing is available upon request.
---