North Pole Workshop 3A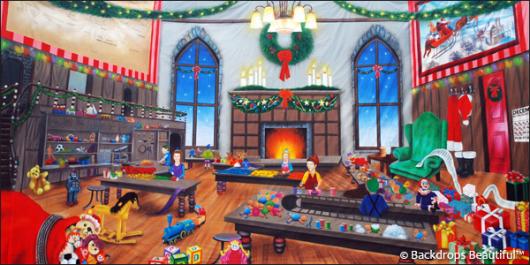 This image is an actual photograph of the hand-painted backdrop.
Backdrop Specifications:
Backdrop Name: North Pole Workshop 3A
Backdrop SKU: WW-4020-0297
Backdrop Size: W40ft X H20ft
Backdrop Weight: Approx. 32 lbs
Bring Santa's workshop to life with the North Pole Workshop Backdrop. Our signature backdrop is hand painted and highly detailed. It marvelously displays Santa's elves making children's toys as they prepare for Christmas Day. Arrive to the North Pole, and enter Santa's magical secret shop. Marvel at the Christmas lights hanging from the ceiling as they shed light to the children's toys. Take a peek at the illuminated the list of who is naughty or nice. A plush Christmas wreath hovers in mid-air, and Santa's world map hangs on the wall, adjacent to a picture of Santa's majestic reindeer taking flight. Watch Santa's elves create wonderful toys as excitement enamors your body. You have entered a place no one else has. The North Pole Workshop Backdrop is perfect for events or shows wanting to recreate the perfect Christmas environment and atmosphere.
---