Mansion Interior 10 Gold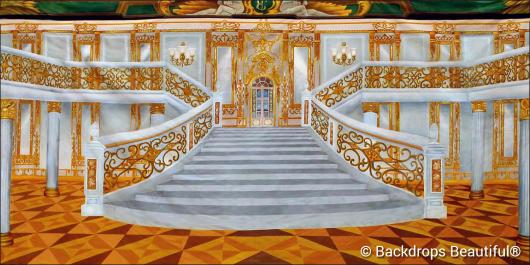 This image is an actual photograph of the hand-painted backdrop.
Backdrop Specifications:
Backdrop Name: Mansion Interior 10 Gold
Backdrop SKU: IN-2512-3045
Backdrop Size: W25ft X H12ft
Backdrop Weight: Approx. 15 lbs
Have elegant and luxurious d�cor with the Mansion Interior Backdrop. Our signature backdrop is hand painted and highly detailed. It displays a beautiful white staircase and intricately designed golden rails, which leads up an extravagantly designed doorway and upper floor. Very individualized and lavish golden trimmed mirrors pattern the wall alongside sparkling chandeliers. Be amazed as the ceiling consists of an angelic and majestic painting depicting two golden winged angels sitting back to back as they watch over the beautiful mansion. To add to the exquisite mansion are golden designs that pattern the floor. Live in affluence and be in awe of the surrounding d�cor. The Mansion Interior Backdrop is perfect for upscale themed events or shows.
---