Indian Temple 2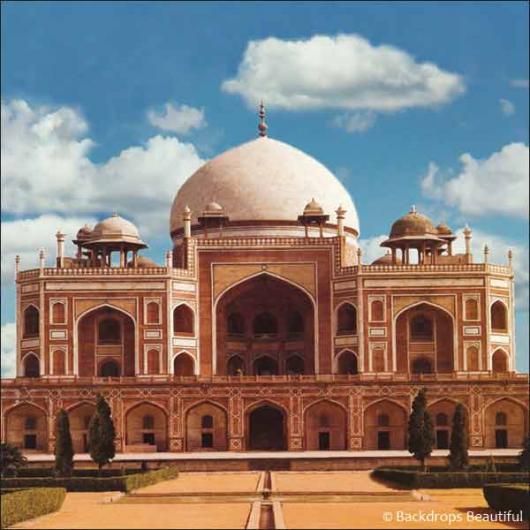 This image is a representation of our painted backdrop. Actual photo available upon request.
Backdrop Specifications:
Backdrop Name: Indian Temple 2
Backdrop SKU: AS-1010-0056
Backdrop Size: W10ft X H10ft
Backdrop Weight: Approx. 5 lbs
Experience the beautiful architecture that India has to offer with our Indian Temple 2 backdrop. The temple in this scene is the tomb of Humayan, the second Mughal Emperor. This tomb was actually built before the Taj Mahal in 1562, but the two structures are similar in design with the distinctive dome and the outdoor garden. Humayan's tomb is built of red sandstone with marble inlays. The sun's rays softly highlight the intricate details of the temple's exterior. Located in Delhi, this temple is another popular tourist attraction in India. This enormous structure also houses the graves of Humayan's wife, Hamida Begum, and other close relatives of the emperor. Indian Temple 2 is 10ft wide and 10ft high and other sizes are available. We also offer similar backdrops depicting Indian architecture; refer to Taj Mahal 1 and Indian Temple 1. Even though you are viewing a digital image, we can provide photos of the painted backdrop for viewing. This backdrop will offer a stunning landmark to set the scene for your special event, and it is sure to make an impression on all those in attendance. We stand by the high quality of our backdrops painted by our talented artists using an airbrush technique. Keep in mind that lighting can also enhance the color and detail in our backdrops. Remember that the best way to view a backdrop of this size is to stand back at least 20-200ft and enjoy the atmosphere it creates. Please refer to our hanging instructions to learn the best way to display this backdrop for your special event. You may purchase this backdrop or rent it from us for any length of time. Since the pricing of all of our backdrops is available upon request, our sales team is eagerly standing by to assist with any questions regarding your event and our backdrops!
---