Indian Mandap 1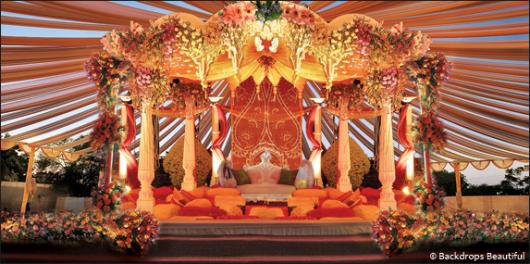 This image is a representation of our painted backdrop. Actual photo available upon request.
Backdrop Specifications:
Backdrop Name: Indian Mandap 1
Backdrop SKU: AS-2010-0064
Backdrop Size: W20ft X H10ft
Backdrop Weight: Approx. 8 lbs
Create an authentic Indian celebration with our Indian Mandap 1 backdrop. An Indian mandap is traditionally used for Hindu weddings, usually at the bride's home. The mandap itself is a canopy with four pillars that sets the stage for the wedding ceremony. It is decorated in a way that reflects the theme of the marriage. Usually, red and gold hues are used to signify prosperity for the happy couple. The mandap in this scene is adorned with an arrangement of beautiful flowers under a tent draped with a sheer fabric. Lighting makes the top of the canopy glow, showing off the intricate detail of the mandap. The four pillars represent the parents of both the bride and groom, symbolizing the structures that supported them from childhood to adulthood. Indian Mandap 1 is 20ft wide and 10ft high and other sizes are available. Even though you are viewing a digital image, we can provide photos of the painted backdrop for viewing. This backdrop will create a memorable environment for your special event, and it will make an impression on all those in attendance. We stand by the high quality of our backdrops painted by our talented artists using an airbrush technique. Keep in mind that lighting can also enhance the color and detail in our backdrops. Remember that the best way to view a backdrop of this size is to stand back at least 20-200ft and enjoy the atmosphere it creates. Please refer to our hanging instructions to learn the best way to display this backdrop for your special event. You may purchase this backdrop or rent it from us for any length of time. Since the pricing of all of our backdrops is available upon request, our sales team is eagerly standing by to assist with any questions regarding your event and our backdrops!
---