African Elephant Sunset 2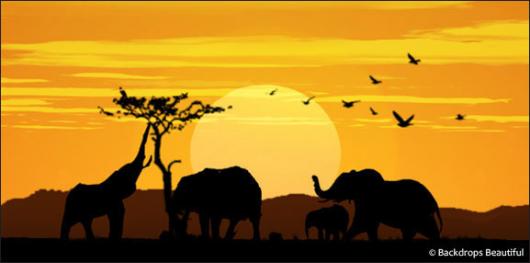 This image is a representation of our painted backdrop. Actual photo available upon request.
Backdrop Specifications:
Backdrop Name: African Elephant Sunset 2
Backdrop SKU: AF-2010-0006
Backdrop Size: W20ft X H10ft
Backdrop Weight: Approx. 8 lbs
This African Elephant Sunset2 backdrop is another of a series of backdrops depicting yet another calming scene in Africa. Be it sunrise or sunset � it�s your call. The elephants graze unwittingly against a backdrop of a burning African sky. Lone trees, showing a lack of water in the area with the grass and shrubs shades of brown are the grazing grounds for these mammoth animals that roam and share our earth. The clouds illuminate this brilliant African Sky. A far cry from the hustle and bustle of our daily city lives, I dream of Africa and the bushveld on another continent! No matter how far away from this distant land you may live, we can take you out of one world and into another as we bring our African Elephant Sunset2 backdrop into your life and bring you this close up to the beauty of land so far away. With so little to eat, the elephants choose the grass for nourishment and also reach for the high leaves on these bare baobab trees. Bringing in another element of life, the birds are hover above these calm natured creatures as they live in total harmony together. This awe-inspiring backdrop transmits a feeling of tranquility that will carry through every aspect of your event or recital, yet the vibrant contrasting colors will quickly pick up speed as is required. Though this backdrop is currently available in a size that is 20ft wide by 10ft high, it is also available in other sizes too. Even though you are viewing a digital image, we can provide photos of the painted backdrop for viewing. We stand by the high quality of our backdrops painted by our talented artists using an airbrush technique. Remember that the best way to view a backdrop of this size is to stand back at least 20-200ft and enjoy the atmosphere it creates. You may purchase this backdrop or rent it from us for any length of time. Since the pricing of all of our backdrops is available upon request, our sales team is eagerly standing by to assist with any questions regarding your event and our backdrops!
---