Street Market 3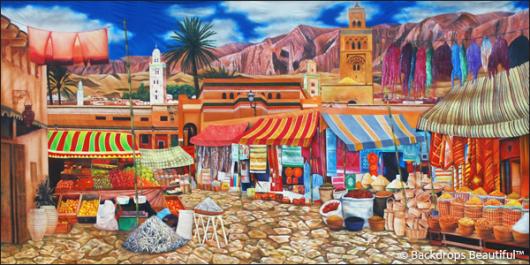 This image is an actual photograph of the hand-painted backdrop.
Backdrop Specifications:
Backdrop Name: Street Market 3
Backdrop SKU: AF-3015-0028
Backdrop Size: W30ft X H15ft
Backdrop Weight: Approx. 18 lbs
Just like its counterpart, Street Market 3 backdrop has you ambling along its cobble stoned streets outdoors in an ethnic market. The sunlight glistens off of the smooth rocks of the pathway leading you through this multicolored market. Colorfully striped awnings attract customers while blocking the heat of the afternoon. Handcrafted products are available for sale, such as clay pots, decorative rugs, hand-woven baskets, and a variety of clothing. Merchants are also offering produce fresh from local farms, including juicy red apples, crisp pears, bright oranges, and ripe bananas. Customers can take a leisurely stroll through the market on the weekend and peruse through the different stands to shop among the different products that the vendors have to offer. Tourists may stop too to purchase the local Knickknacks, dust collectors and bric-a-brac. The authentic architecture in the background exudes a rich culture. This scene will add an enriching ambiance to your special event, and it will create a unique experience for all those who either attend or take part in anyway. This particular backdrop is 30ft wide by 15ft high, however many other sizes are also available – even custom sizes. Although you are viewing a digital image, we can provide photos of the painted backdrop for viewing. We stand by the high quality of our backdrops painted by our talented artists using the airbrush technique. Remember that the best way to view a backdrop of this size is to stand back at least 15-150ft and enjoy the ambiance that it creates. Keep in mind that lighting can also enhance and highlight the color and detail in our backdrops. Please refer to our hanging instructions to learn the best way to display this backdrop for your special event and also how to handle the folding for the easy return of our backdrops. All of our backdrops are available for purchase or you may rent them from us for any period of time. We have weekly and weekend pricing which is available upon request, our sales team is eagerly standing by to assist with any questions regarding your event and our backdrops! Our backdrops present just another way to WOW your recital or event.
---