Mardi Gras 1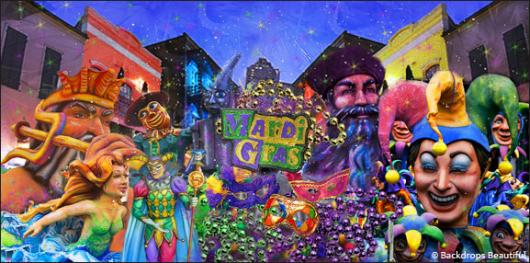 This image is a representation of our painted backdrop. Actual photo available upon request.
Backdrop Specifications:
Backdrop Name: Mardi Gras 1
Backdrop SKU: CL-4020-1604
Backdrop Size: W40ft X H20ft
Backdrop Weight: Approx. 32 lbs

Grab your colorful beads and feathered masks to celebrate Mardi Gras! Our Mardi Gras 1 backdrop features a lively parade in the French Quarter of New Orleans. Mardi Gras is a carnival celebration on Fat Tuesday, the day before Ash Wednesday of every year. The festivities include parade floats, colorful beads, and King Cake parties. King's Cake is a traditional dessert made of cinnamon dough shaped into a braided oval ring and sprinkled with green, purple, and gold sugar. The trio of colors represents the three wise men who brought gifts to the Christ child; green representing faith, purple representing justice, and gold representing power. Today, people from all over the world travel to New Orleans in February to experience the unique celebration. This scene will add a unique ambience to any special event or recital. Mardi Gras 1 is 40 feet wide and 20 feet high, and other sizes are available. We also offer comparable backdrops featuring masks and a Mardi Gras setting that can be found under the Carnival Backdrop category. Even though you are viewing a digital image, we can provide photos of the painted backdrop for viewing. We stand by the high quality of our backdrops painted by our talented artists using an airbrush technique. Lighting will enhance the color and detail in our backdrops. Remember that the best way to view a backdrop of this size is to stand back at least 20-200 feet and enjoy the atmosphere it creates. Please refer to our hanging instructions to learn the best way to display this backdrop for your special event. You may purchase this backdrop or rent it from us for any length of time. Since the pricing of all of our backdrops is available upon request, our sales team is eagerly standing by to assist with any questions regarding your event and our backdrops!
---