Hong Kong 1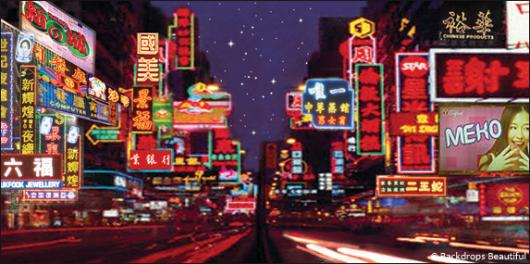 This image is a representation of our painted backdrop. Actual photo available upon request.
Backdrop Specifications:
Backdrop Name: Hong Kong 1
Backdrop SKU: AS-4020-0059
Backdrop Size: W40ft X H20ft
Backdrop Weight: Approx. 32 lbs
Experience the international nightlife with our Hong Kong 1 backdrop! With this scene, you can explore the colorful neon-lit streets of Hong Kong under a starry night sky. The metropolitan streets are buzzing with locals and tourists beginning their night out on the town. They can visit different boutiques along the street to pick up books, souvenirs and jewelry. Other visitors seek out night clubs to dance the night away. Hong Kong is a cosmopolitan hub for genuine Chinese cuisine, exotic drinks, and stimulating nightlife. It may even take more than one night to discover everything that Hong Kong has to offer. Authentic Chinese signs direct foot traffic and invite you in for an evening of entertainment. The blur of city lights stretch across the scene as cars travel down the busy roads. Hong Kong 1 is 40ft wide and 20ft high and other sizes are available. Even though you are viewing a digital image, we can provide photos of the painted backdrop for viewing. Hong Kong 1 will create a conversation piece and add a special experience to your event. We stand by the high quality of our backdrops painted by our talented artists using an airbrush technique. Keep in mind that lighting can also enhance the color and detail in our backdrops. Remember that the best way to view a backdrop of this size is to stand back at least 20-200ft and enjoy the atmosphere it creates. Please refer to our hanging instructions to learn the best way to display this backdrop for your special event. You may purchase this backdrop or rent it from us for any length of time. Since the pricing of all of our backdrops is available upon request, our sales team is eagerly standing by to assist with any questions regarding your event and our backdrops!
---