French Street 5A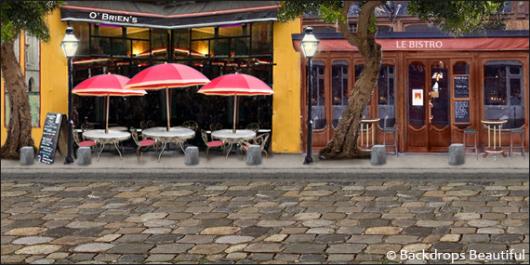 This image is a representation of our painted backdrop. Actual photo available upon request.
Backdrop Specifications:
Backdrop Name: French Street 5A
Backdrop SKU: FR-2010-1355
Backdrop Size: W20ft X H10ft
Backdrop Weight: Approx. 8 lbs

Enjoy an authentic cup of French coffee street side with our French Street 5A backdrop. Quaint cafes invite you in as you make the decision of where to dine. You can choose from Cafe Beignet, Cafe Du Monde, or La Cuisine. Have brunch on the patio like a true Parisian as you are served croquets and paninis by a sophisticated French waiter. Sit in fancy white chairs and bask in the ornamental decor while sipping on a glass of your favorite wine. Ornate street lamps line the sidewalk. The stone street gives the scene a European feel, distinguishing it from the smooth asphalt streets of the U.S. This scene will add a French ambience to any special event or recital. French Street 5A is 20 feet wide and 10 feet high, and other sizes are available. This backdrop is best used with French Street 5A as a panel to set a more complete and cohesive background. We also offer similar backdrops featuring a European setting that can be found under the Europe Backdrop categories. Even though you are viewing a digital image, we can provide photos of the painted backdrop for viewing. We stand by the high quality of our backdrops painted by our talented artists using an airbrush technique. Lighting will enhance the color and detail in our backdrops. Remember that the best way to view a backdrop of this size is to stand back at least 20-200 feet and enjoy the atmosphere it creates. Please refer to our hanging instructions to learn the best way to display this backdrop for your special event. You may purchase this backdrop or rent it from us for any length of time. Since the pricing of all of our backdrops is available upon request, our sales team is eagerly standing by to assist with any questions regarding your event and our backdrops!
---