Festival 2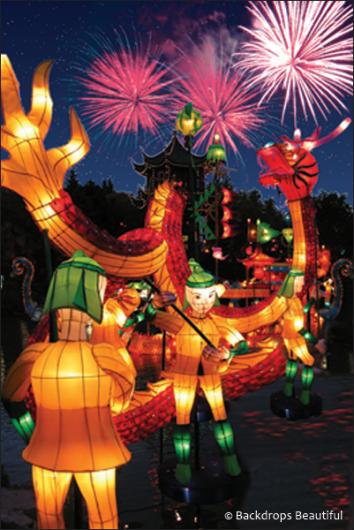 This image is a representation of our painted backdrop. Actual photo available upon request.
Backdrop Specifications:
Backdrop Name: Festival 2
Backdrop SKU: AS-1015-0070
Backdrop Size: W10ft X H15ft
Backdrop Weight: Approx. 6 lbs
Join in the festivities with our Festival 2 backdrop. This scene features brightly colored lanterns that illuminate the streets for the Chinese Mid-Autumn Festival, which celebrates the end of the summer harvesting season. The moon is also said to be at its fullest and roundest on this day. The large red dragon symbolizes majesty and power. Its fiery red scales and orange belly create a warm mixture of light that compliments the dark night sky. The human-like lanterns glow as they lead the dragon in the parade. Fireworks fill the sky in the background as the embers fall atop the silhouette of an Asian pagoda. Festival 2 will add an exciting scene to any special event or recital, and it will offer a unique experience for everyone in attendance. This backdrop is 10ft wide and 15ft high, and other sizes are available. We also offer similar festival backdrops which can be found under Asia, Fireworks, and Celebration backdrop categories. This panel will make more of a statement when combined with other festival backdrops. Even though you are viewing a digital image, we can provide photos of the painted backdrop for viewing. We stand by the high quality of our backdrops painted by our talented artists using an airbrush technique. Lighting will enhance the color and detail in our backdrops. Remember that the best way to view a backdrop of this size is to stand back at least 20-200ft and enjoy the atmosphere it creates. Please refer to our hanging instructions to learn the best way to display this backdrop for your special event. You may purchase this backdrop or rent it from us for any length of time. Since the pricing of all of our backdrops is available upon request, our sales team is eagerly standing by to assist with any questions regarding your event and our backdrops!
---