Ancient City 1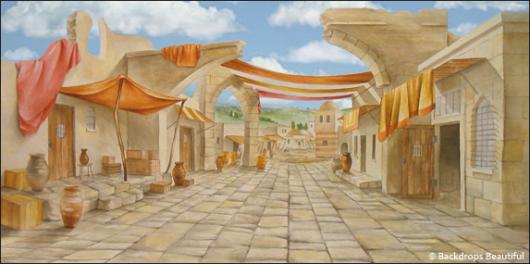 This image is a representation of our painted backdrop. Actual photo available upon request.
Backdrop Specifications:
Backdrop Name: Ancient City 1
Backdrop SKU: ME-4020-0124
Backdrop Size: W40ft X H20ft
Backdrop Weight: Approx. 32 lbs
Explore early architecture and embrace historic ruins with our Ancient City 1 backdrop. This scene features a dusty street where the locals call "home". Just beyond the stone pathway lies a busy market where merchants come to sell fresh fruit, colorful pottery, and hand woven baskets to those passing by. Residents drape vibrant sheets of fabric onto poles, creating makeshift awnings that filter out the bright sunlight during the hottest days of summer. Ornate vases decorate the fronts of the humble homes of the ancient street. Ancient City 1 is a great setting for a historic scene or even a religious scene during the early times of Christ. It is sure to create an authentic scene of olden times. This backdrop is 40 feet wide and 20 feet high, and other sizes are available. We also offer several similar backdrops featuring ancient cities and street scenes, which can be found under our Christmas, Religious, and Street Scene Backdrop categories. Even though you are viewing a digital image, we can provide photos of the painted backdrop for viewing. We stand by the high quality of our backdrops painted by our talented artists using an airbrush technique. Lighting will enhance the color and detail in our backdrops. Remember that the best way to view a backdrop of this size is to stand back at least 20-200 feet and enjoy the atmosphere it creates. Please refer to our hanging instructions to learn the best way to display this backdrop for your special event. You may purchase this backdrop or rent it from us for any length of time. Since the pricing of all of our backdrops is available upon request, our sales team is eagerly standing by to assist with any questions regarding your event and an incredibly beautiful backdrop!
---