High School Locker Room 1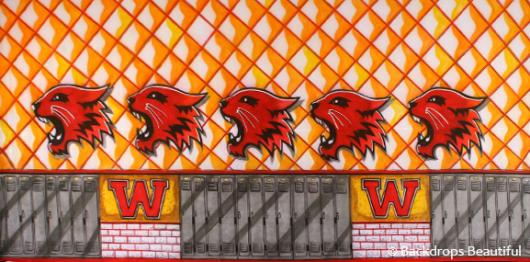 This image is an actual photograph of the hand-painted backdrop.
Backdrop Specifications:
Backdrop Name: High School Locker Room 1
Backdrop SKU: DA-4020-0624
Backdrop Size: W40ft X H20ft
Backdrop Weight: Approx. 32 lbs
Throwback to the best or worst times of your life, depending on who you are. The High School Locker Room 1 backdrop is sure to jog memories of your teenage life and remind you of the emotional rollercoaster that was high school. A high school locker room is symbolic of many high school memories because it's where most of the gossip and much of the very high school-like behavior took place. Who's dating who, which teachers are the worst, and why does that girl always change by herself? Are just some of the popular topics dispersed amongst kids within the walls of the gym's locker room. You can almost hear the whispers and giggles and different conversations happening up and down each row of lockers. There is never a pleasant smell in high school locker rooms- it's mostly a combination of sweaty gym clothes and perfumes/colognes attempting to mask the smell. The result of the combination isn't great but it's a trademark quality of a locker room and you can almost smell it when you view this backdrop. In our locker room backdrop we feature steel rows of lockers along a yellow and red striped wall with a red bobcat painted as the mascot, and a large W standing for the name of whatever high school you belong to. This particular backdrop is 40 feet wide and 20 feet tall, weighing an average of 30 pounds.
---