Space 1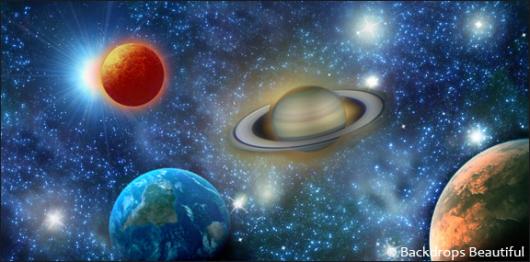 This image is a representation of our painted backdrop. Actual photo available upon request.
Backdrop Specifications:
Backdrop Name: Space 1
Backdrop SKU: GX-4020-1200
Backdrop Size: W40ft X H20ft
Backdrop Weight: Approx. 32 lbs
To infinity and beyond! Get lost in our Space 1 background as you soar through the universe. Set against a dark blue sky, the planets are here for us to see in this up close and personal view of our galaxy. Using careful airbrush techniques, this backdrop has been painted to give the viewer the feeling of really being in outer space. A million tiny stars grace the sky and illuminate the background. Mars is its usual fire red, the ring on Saturn is unmistakable, and our very own earth is present in this picture, looking like a tiny globe. Take your guests on the ride of a lifetime through time and space when you present them with this 40ft wide 20 ft tall creation.
---