Wicked Moon 1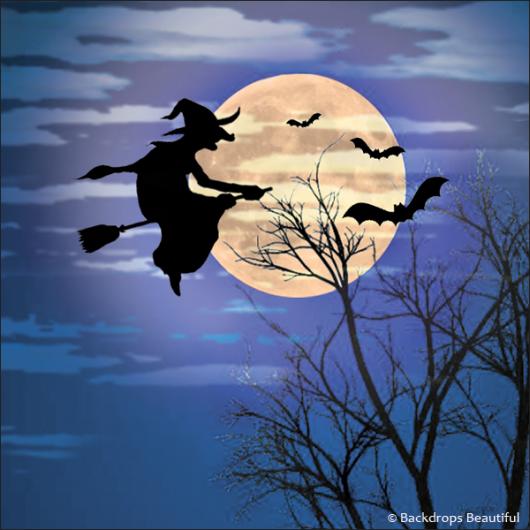 This image is a representation of our painted backdrop. Actual photo available upon request.
Backdrop Specifications:
Backdrop Name: Wicked Moon 1
Backdrop SKU: FT-1010-2105
Backdrop Size: W10ft X H10ft
Backdrop Weight: Approx. 5 lbs

Trick or treat, trick or treat, give me something good to eat! Celebrate one of the nation's favorite holidays with our Wicked Moon 1 backdrop! Bats make way for the silhouette of a witch riding her broomstick past a full moon and into the darkness. Witches are one of the traditional concepts associated with Halloween and are a source of fright for many young children. Usually associated with bubbling cauldrons, muttered spells, and haunted houses, witches bring an element of excitement to the holiday. This wicked witch is wearing the typical pointed hat and has other witch-like qualities like her long warty nose and long set of robes. Whether you're hosting a Halloween party, putting on a Halloween play, or just need some new trick-or-treating decorations for your house this year, our backdrop is sure to do the trick. Using artistic airbrush techniques, we've produced a haunting purple sky with hints of blue here and there as well as a massive yellow full moon and scraggly thin trees. All of these images combined work together to create a very Halloween-feeling atmosphere. This particular backdrop is 10 feet tall and 10 feet wide, weighing approximately five pounds. It's easy to move and will be convenient for usage in any setting. Call today to rent or purchase our Wicked Moon 1 backdrop for a Halloween you'll always remember!
---