Floral 1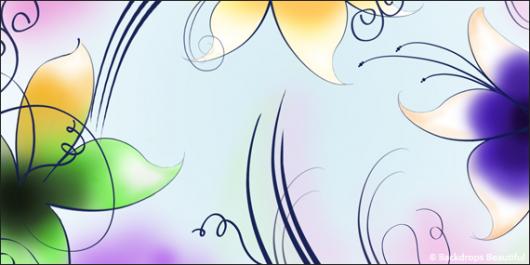 This image is a representation of our painted backdrop. Actual photo available upon request.
Backdrop Specifications:
Backdrop Name: Floral 1
Backdrop SKU: MS-2010-0738
Backdrop Size: W20ft X H10ft
Backdrop Weight: Approx. 8 lbs
A beautiful floral background covers this backdrop with the unique feel of a vibrant yet slightly pastel stationary. You can imagine sitting down at an old fashioned desk, pen in hand, prepared to fill the empty spaces with words. The background is inviting and warm. Both hot and cool colors and a few dashes of black fill the content of the objects and images displayed on this particular backdrop. The corners are soft pinks and purples. Flowers sprout from the edges with dark centers. The flowers are shaped like hibiscus flowers, a sight you might see while vacationing in Hawaii. One of the flowers is mostly a dark green that eventually fades onto the petals in a slightly lighter hue. Another flower is mostly a dark purple that again fades into a softer version of the deep royal purple of the center. Black lines spring up from the top and bottom of the canvas, creating a feeling of energy and excitement. Light pinks and purples are sprayed around the outlines of lines and in some of the corners and open spaces. The center of the painting is mostly open, a clear and light blue. The blue in the center is a calming blue. It might remind one of a clear sunny day, cloudless and peaceful. It is the color of a robin�s egg, and nicely compliments the rest of the colors. Whether this backdrop serves as something nice to look at or something that will be utilized for other purposes, its beauty will surely bring joy and peace of mind to whomever is in its possession.
---