Candyland 7A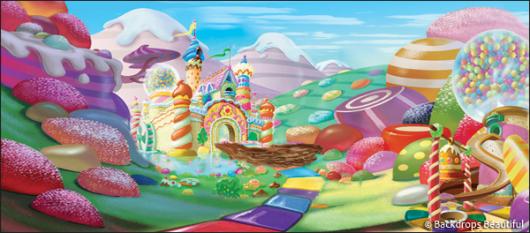 This image is a representation of our painted backdrop. Actual photo available upon request.
Backdrop Specifications:
Backdrop Name: Candyland 7A
Backdrop SKU: FT-5022-2161
Backdrop Size: W50ft X H22ft
Backdrop Weight: Approx. 45 lbs
Take a trip through Candyland with this deliciously decorative backdrop. The bright colors are sure to attract attention to and bring out the sweet side of everybody who feasts their eyes on it. You might even be tempted to climb the sugar-covered gum drop mountain or walk up the road to the giant gumball machine filled with chewy gumballs in the foreground. Cinnamon candy canes, standing tall like sentries, guard this precious gumball tower. Farther down the red, purple, blue and yellow squared road is the majestic candy castle, complete with striped towers of mint and cherry candy canes and a dome of gumballs. Flowing out of the castle is a rich, dark chocolate river. The clear blue water of the moat protects the castle at all costs. Neighboring the candy castle, is a mountain made of ruby red, grape-jelly purple, orange cream and pink cotton candy that looks soft enough to sleep in. Behind the backdrop of a baby blue sky, purple towers of sorbet soar into the sky and are snow-capped with icing. The green hills are dotted with colorful buttons of candy and have a blue spiral for added depth. This sweet swirl of color is sure to brighten any room.
---