Candyland 2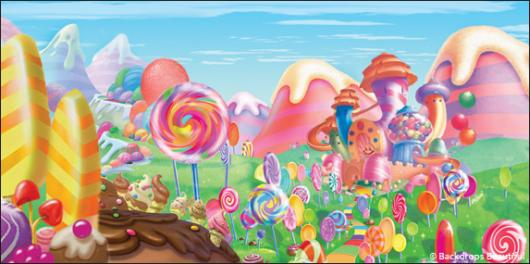 This image is a representation of our painted backdrop. Actual photo available upon request.
Backdrop Specifications:
Backdrop Name: Candyland 2
Backdrop SKU: FT-4020-2101
Backdrop Size: W40ft X H20ft
Backdrop Weight: Approx. 32 lbs
Explore yummy meadows of sugary treats with our Candyland 2 backdrop! In this scene, you will find rolling fields of swirly lollipops and frosted pink mountains. A chocolate river overflows with colorful candies and sugar cones topped with scoops of frosty ice cream. Citrus colored popsicles tower over berry cupcakes just at the beginning of the candy coated pathway that leads up to a candy house just beyond the fields. Gooey gumdrops make their way up the windy roads leading up to the mountain. Jelly beans and This backdrop is 40ft wide and 20ft high, and other sizes are available. We also offer similar backdrops featuring a Candyland landscape that can be found under the Carnival and Circus Backdrop categories. This particular backdrop is better when paired with Candyland 2; they create an entire panel that enhances the entire theme. Even though you are viewing a digital image, we can provide photos of the painted backdrop for viewing. We stand by the high quality of our backdrops painted by our talented artists using an airbrush technique. Lighting will enhance the color and detail in our backdrops. Remember that the best way to view a backdrop of this size is to stand back at least 20-200ft and enjoy the atmosphere it creates. Please refer to our hanging instructions to learn the best way to display this backdrop for your special event. You may purchase this backdrop or rent it from us for any length of time. Since the pricing of all of our backdrops is available upon request, our sales team is eagerly standing by to assist with any questions regarding your event and our backdrops!
---